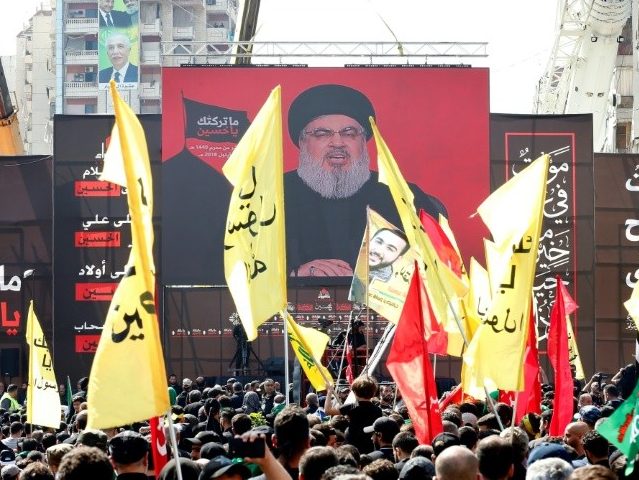 The "world's preeminent state sponsor of terrorism" Iran and its proxy Hezbollah maintain an operational presence across Latin America and in the United States, the U.S. Department of State (DOS) reported this week.
For years, State and the U.S. military have warned against Iran and Hezbollah's growing activities in Latin America, including the terrorist group's involvement in drug trafficking and money laundering.
According to State's Country Reports on Terrorism for 2017 released Wednesday, which tracks terrorist activities across the world, Iran is the world's leading state sponsor of terrorism with a "near-global reach."
While briefing reporters about the terrorism reports on Wednesday, Nathan Sales, the State Department's ambassador-at-large and coordinator for counterterrorism, declared:
Iran is the world's preeminent state sponsor of terrorism, and it brings to its terrorist activities the resources of a state. We have seen Iran's and its proxies' terrorist-related activities across the globe. There are active fundraising networks in places as far afield as Africa, in South America. We've seen weapons caches planted around the world. We've seen operational activity not just in Lebanon by Hizballah, but by Iran-backed terrorists in the heart of Europe. Iran uses terrorism as a tool of its statecraft. It has no reservations about using that tool on any continent.
The annual Country Reports on Terrorism for 2017 added:
Iran's state sponsorship of terrorism worldwide remained undiminished through the Islamic Revolutionary Guard Corps-Qods Force [IRGC-QF], its Ministry of Intelligence and Security, and Tehran's proxy Hizballah, which remained a significant threat to the stability of Lebanon and the broader region
State noted that authorities across the Western Hemisphere, including the FBI in the United States, arrested several Hezbollah (or Hizballah) operatives and disrupted various plots last year.
"As far as Iran-backed terrorist organizations are concerned, we've arrested a number of operatives who allegedly were casing targets in support of Iran-backed terrorist organizations, and they're now facing charges in federal court," Sales told reporters.
In early June 2017, the FBI arrested Ali Kourani, 32, of the Bronx, New York, and Samer el Debek, 37, of Dearborn, Michigan, on charges linked to their alleged activities on behalf of Shiite Hezbollah.
Referring to one of the defendants, State noted:
In addition to its financial and fundraising activities in the Western Hemisphere, Hizballah also maintained interest in the region during 2017. A Hizballah operative was arrested by the FBI in the United States in June 2017. Among other accusations, he was allegedly involved in surveilling U.S. and Israeli targets in Panama.
Latin American authorities also arrested several Hezbollah jihadis and disrupted some plots linked to the Shiite terrorist group last year.
DOS reported:
[B]olivian security services previously uncovered and disrupted a Hizballah cache of explosive precursors in the La Paz area. The Peruvian government's prosecution of a Hizballah member arrested in 2015 is still ongoing, with the Peruvians successfully appealing a ruling acquitting this operative of terrorism charges.

…

With the help of U.S. counterparts, Paraguayan law enforcement officials arrested multiple Lebanese Hizballah-linked suspects in the Ciudad del Este area who were engaged in money laundering and drug trafficking activities, some with links to the United States.
"Panama cooperated with U.S. law enforcement on various counterterrorism cases this year, including individuals linked to Hizballah," State added.
A local Peruvian news outlet reported in 2016 that Shiite Iran's terror proxy Hezbollah had registered as an official political party in Peru's Abancay province, home to the nation's largest Muslim community.
In previous terrorism reports, State acknowledged that the socialist country of Venezuela, which is hostile to the United States, provides "a permissive environment" that benefits known terrorist groups like Hezbollah.
State reiterated in its latest report:
In May 2017, for the twelfth consecutive year, the U.S. Department of State determined, pursuant to section 40A of the Arms Export Control Act, that Venezuela was not cooperating fully with U.S. counterterrorism efforts. The country's porous borders offered a permissive environment to known terrorist groups.
Politico found last year that former U.S. President Barack Obama's administration "derailed" a DEA operation targeting Hezbollah's drug trafficking activities in Latin America to secure approval of the controversial Iran nuclear deal.
U.S. President Donald Trump's administration, which has taken a tough stance against Iran, pulled out of the nuclear deal and is expected to reimpose sanctions against the Islamic Republic.
Under the deal, Iran was expected to reduce its nuclear weapons activities in exchange for sanctions relief.
While financial support for Hezbollah and other Iranian proxies by the heavily sanctioned regime may be drying up, the terrorist group is believed to be generating hundreds of millions of dollars from drug trafficking.
Moreover, the terrorist group is believed to be laundering billions of dollars. Forbes this year deemed Hezbollah the richest terrorist organization with an annual income of $1.1 billion, generated primarily by "aid funding from Iran, drug manufacture and trade."
Breitbart News has learned that Iran is operating up to 100 so-called cultural centers across Latin America manned by Hezbollah and IRGC recruiters.
http://feedproxy.google.com/~r/breitbart/~3/tkUKoHznZmY/