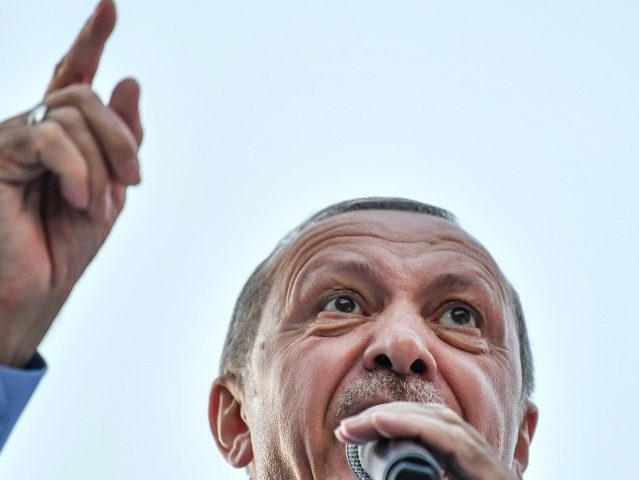 In its 2017 Country Reports on Terrorism released Wednesday, the State Department condemned Turkey for using a "broad" definition of terrorism to curb freedom of expression within the country.
According to the report, the Erdoğan regime's overzealous definition of terror groups extends to legitimate political groups who it claims are threats against the "constitutional order." Ankara "criminalize what the United States would consider the legitimate exercise of freedom of expression and assembly," the State Department asserts.
The State Department report also deviates from Turkey's characterization U.S.-based Fethullah Gülen, labeling the self-exiled Erdoğan critic as an "Islamic cleric," rather than the head of Fetullah Terrorist Organization (FETÖ). Turkey uses the term FETÖ for Hizmet, Gülen's international network of religious charter schools and charity endeavors.
According to the report, Turkey's July 2016 coup attempt led to a shift in the country's counterterrorism efforts, with an increased focus on FETÖ's activities.
This resulted in detentions, arrests, and dismissals of military, security, and civil servants from public office. Turkey designated "FETO" as a terrorist organization in May 2016 and later accused it of perpetrating the attempted coup. The state of emergency instituted by the Turkish government July 21, 2016, remained in effect at the end of 2017. As of November, the government had dismissed approximately 150,000 civil servants from public service for alleged "FETO" or terrorism-related links, often on the basis of scant evidence and minimal due process. Detentions of "FETO" suspects continued at year's end, with 35,145 detained in the January 2 to October 30 timeframe, according to interior ministry data.
The State Department further deviates from the standard line in Turkey by refusing to identify U.S.-allied Kurdish groups as "terrorist" organizations, including the Syrian Kurdish People's Protection Units (YPG/YPJ), instrumental in the defeat of the Islamic State in its "capital," Raqqa. It does identify the Marxist Kurdistan Workers' Party (PKK) as a terrorist threat to Turkey.
The PKK has been engaged in an armed struggle against Turkey since 1984. The group aims to establish an independent Kurdish state in southeast Turkey, northern Iraq, and Syria. The PKK is a U.S.-designated foreign terrorist organization. Turkey considers the PKK indistinguishable from the YPG.
News of the revised State Department report comes amid Turkey neutralizing at least three PKK fighters in an airstrike in northern Iraq, violating that nation's sovereignty without evidence that Baghdad agreed to the attack. Turkish officials would not say if the PKK fighters were killed or captured in the strike.
In March, Erdogan told Ankara officials that Turkey will step up military operations against the PKK in Iraq. "We are checking the terror nests in northern Iraq at every chance. Soon, we will stomp very strongly on the terrorists there," Erdogan warned. Echoing Erdogan's statements, prime minister Binali Yildirim said Turkey is in "close contact" with Iraqi officials regarding plans for future cross-border operations.
http://feedproxy.google.com/~r/breitbart/~3/u13cv6L6_7s/