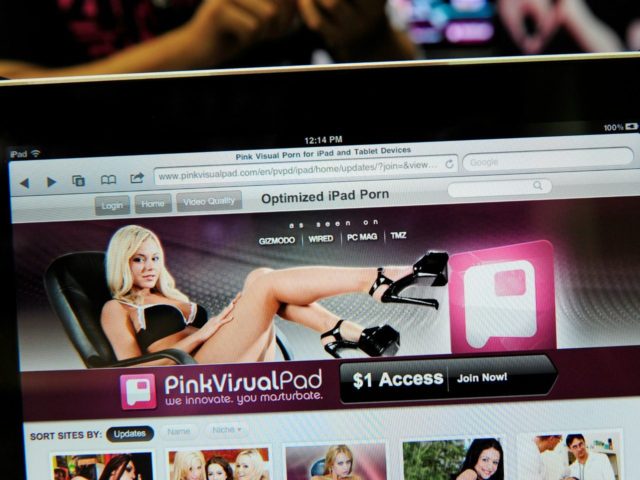 Starbucks is set to block customers from being able to watch pornography on the WiFi provided in its coffee stores next year, following a campaign from anti-Internet porn organization Enough is Enough.
According to Business Insider, Starbucks "plans to introduce a new tool meant to prevent customers from viewing pornography or other explicit content in stores," starting next year.
"While watching pornography is banned at Starbucks locations, the chain does not have content blockers on its Wi-Fi service," Business Insider explained, adding the ban "comes after years of pressure from the internet-safety organization Enough Is Enough."
Enough is Enough called out Starbucks this month with a petition, which was signed by over 26,000 people.
"Apparently, Starbucks cares more about providing paper straws to protect the environment than protecting kids and patrons on its public WiFi!" proclaimed Enough is Enough. "Starbucks broke its promise to filter pornography and child sex abuse images, despite its public announcement it would voluntarily provide safe WiFi in its restaurants nationwide…an announcement more than 2 and-a-half years ago!"
"By breaking its commitment Starbucks is keeping the doors wide open for convicted sex offenders and patrons to fly under the radar from law enforcement and use free, public WiFi services to view or distribute graphics or obscene pornography, child pornography (an illegal crime), or engage in sexual predation activity," the organization continued. "EIE is once again calling on all concerned to sign our new petition calling on Starbucks to follow through on its promise to filter."
Enough is Enough previously lobbied for the 1996 Communications Decency Act, the 1998 Child Online Protection Act, and the 2000 Children's Internet Protection Act.
In a statement to Business Insider, a Starbucks spokesman declared, "To ensure the Third Place remains safe and welcoming to all, we have identified a solution to prevent this content from being viewed within our stores and we will begin introducing it to our US locations in 2019."
In May, Starbucks changed its policy to allow anyone to use its bathrooms and tables, without the need to buy anything in-store.
After making the policy change, Starbucks raised coffee prices.
http://feedproxy.google.com/~r/breitbart/~3/GMMYEMAsm3Y/