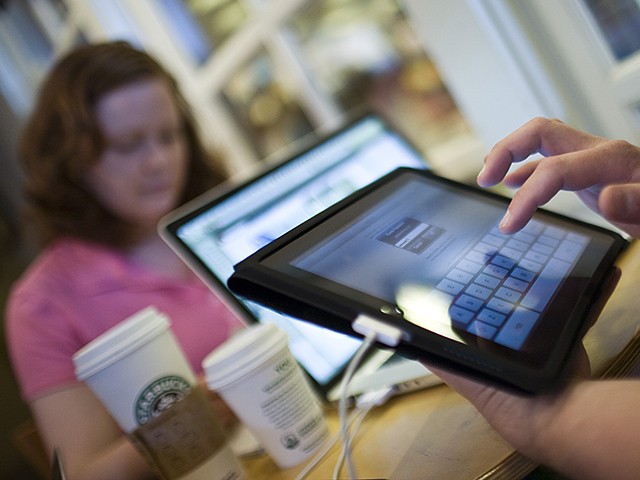 Starbucks announced Thursday that the coffee giant will begin filtering pornography from its shops' WiFi networks in 2019 as one group ratchets up the pressure to bolster Internet safety.
"We have identified a solution to prevent this content from being viewed within our stores and we will begin introducing it to our U.S. locations in 2019," a spokesperson for Starbucks said in a statement to NBC News.
According to the spokesperson, Starbucks has long believed engaging with "egregious content" at its locations is a violation of the company's policies, yet franchises were ill-equipped in the past to remedy the issue. Starbucks has yet to explain how the company plans to block patrons from viewing pornography using its stores' WiFi.
NBC News reports:
The announcement was first reported by Business Insider and comes after a new petition from internet-safety advocacy group Enough is Enough garnered more than 26,000 signatures.

The nonprofit launched a porn-free campaign aimed at McDonald's and Starbucks in 2014, and it says that while McDonald's "responded rapidly and positively," Starbucks has not.

Starbucks said in 2016 that the company was "in active discussions with organizations on implementing the right, broad-based solution that would remove any illegal and other egregious content," according to a statement Monday by Enough is Enough CEO Donna Rice Hughes on the organization's website. But they didn't act, she said.
Hughes took aimed at Starbucks in a 2016 statemet, critizing the company for failing to bar pornography despite promising the to do so two years ago. "By breaking its commitment, Starbucks is keeping the doors wide open for convicted sex offenders and others to fly under the radar from law enforcement and use free, public Wi-Fi services to access illegal child porn and hard-core pornography," Hughes said at the time.
In 2016, fast food giant McDonald's vowed to filter pornography from its restaurants' WiFi in the U.S. after barring sex films from its U.K. locations. Enough Is Enough said, unlike Starbucks, McDonald's has taken swift action in filtering out porn.
http://feedproxy.google.com/~r/breitbart/~3/swtD02LxfHE/