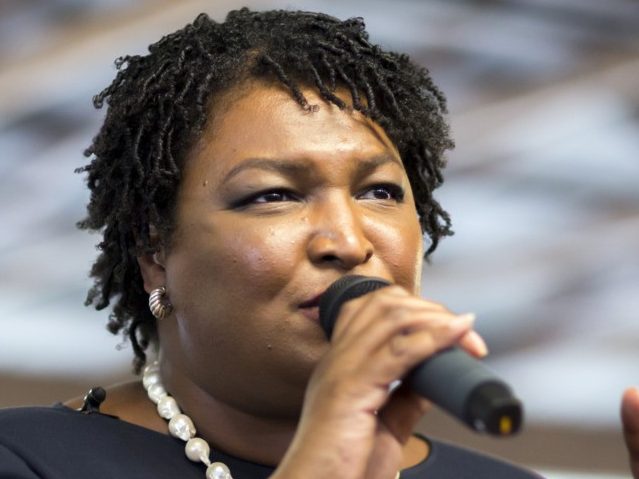 Georgia Democrat gubernatorial candidate Stacey Abrams filed a lawsuit in federal court Sunday in the hopes she could legally force a runoff election in her race against rival Republican gubernatorial candidate Brian Kemp.
Abrams, who has not conceded to Kemp despite him gaining 50.3 percent of the vote with 100 percent of precincts reporting as of Monday afternoon, filed a lawsuit Sunday to block two counties from rejecting provisional and absentee ballots with slight errors, the Washington Post reported.
The lawsuit also calls for county officials to accept provisional ballots from voters who have not updated their current addresses when registering to vote, and seeks to extend the deadline for certifying election results to Wednesday.
The lawsuit also asks county officials to count provisional ballots from voters who have changed addresses but not updated their voter registration and seeks an extended deadline to certify the election results.
Georgia's counties have until Tuesday to certify their election results.
Kemp declared victory even though Abrams refused to concede, and his campaign has called Abrams' actions "a disgrace to democracy."
"Stacey Abrams' antics are a disgrace to democracy and completely ignore the will of the people," campaign communications director Ryan Mahoney said in a statement. "Georgia voters have spoken. It's time for Abrams to listen and concede immediately."
Abrams said she is refusing to surrender the election because she is "fighting" for democracy.
"I am fighting to make sure our democracy works for and represents everyone who has ever put their faith in it," Abrams said. "I am fighting for every Georgian who cast a ballot with the promise that their vote would count."
Abrams campaign says there are enough ballots that have not been counted to force a runoff election. Under Georgia law, if Kemp's percentage of the vote falls below 50 percent, a runoff election would be required.
http://feedproxy.google.com/~r/breitbart/~3/MF0ANuTakvk/