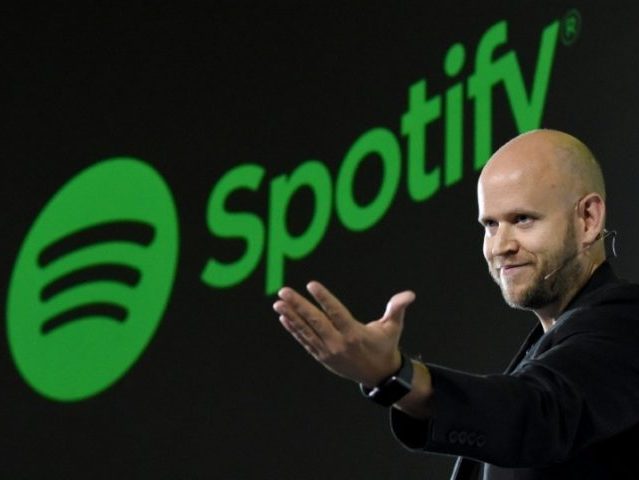 Music streaming service Spotify attempted to push its users into voting this week by releasing custom state playlists and sending messages to users reminding them to vote.
According to the Hill, "Every user 18 and over will receive messages from the app reminding them to vote, along with a playlist. Each compilation highlights music that is popular in the state."
"New York's playlist includes music from Cardi B, Nicki Minaj, Jay-Z, and Lady Gaga. Tennessee's has country hits and Alaska's has some white noise tracks for listeners trying to sleep through the midnight sun," the Hill reported, adding that Spotify is also linking users to "gettothepolls.com."
Billboard also reported that Spotify encouraged its employees "to work from home on Election Day to ensure they have enough time to vote."
Spotify is using its users' location data to match them up with the right "Get vocal" playlist — of which there are reportedly 55.
"With midterm elections quickly approaching, Spotify is encouraging voting-eligible users and employees to show up to the polls because everyone — employees, artists, and fans alike — deserves to have their voices heard on the things that matter most to them," declared a Spotify spokesman in a statement. "Spotify is leveraging its massive reach and presence in its listeners' lives to send users custom notifications, based on state / territory, to motivate them to get to the polls on Election Day, Tues. Nov. 6."
Following a massive voter registration campaign, other Big Tech companies, including Facebook and Snapchat, are also pushing their users to vote in the midterms with a number of new features.
Former President Barack Obama, former First Lady Michelle Obama, and failed Democratic presidential candidate Hillary Clinton have all previously released official Spotify playlists, and in 2017, Spotify protested against President Trump's travel ban.
Spotify, which is partnered with the far-left Southern Poverty Law Center (SPLC) and the Anti-Defamation League (ADL), attempted to crack down on "hate" content both in 2017 and this year.
As part of its crackdown, the platform initially removed rapper XXXTentacion and R. Kelly from its service, before apologizing and reinstating them following complaints.
Spotify also removed episodes from Alex Jones' Infowars podcast for "hate speech."
"We love that our platform is home to so much diversity because we believe in openness, tolerance, respect, and freedom of expression, and we want to promote those values through music on our platform," claimed Spotify in May. "However, we do not tolerate hate content on Spotify — content that expressly and principally promotes, advocates, or incites hatred or violence against a group or individual based on characteristics, including, race, religion, gender identity, sex, ethnicity, nationality, sexual orientation, veteran status, or disability."
http://feedproxy.google.com/~r/breitbart/~3/yTPAa2YfWvw/