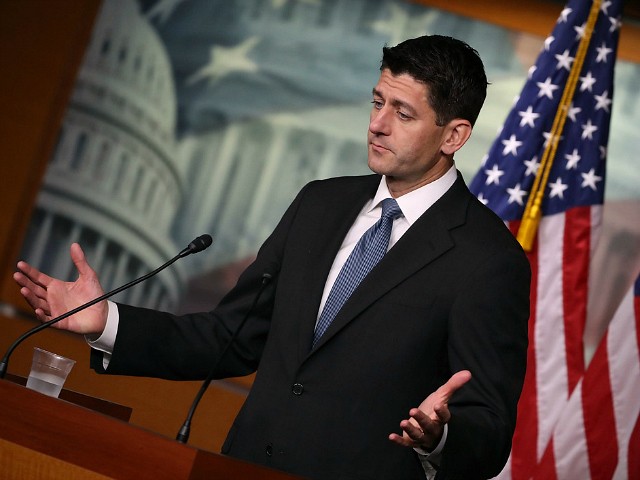 House Speaker Paul Ryan (R-WI) said on Monday during an appearance at the National Press Club in Washington, DC, that there will be a "big fight" over funding for the construction of a wall on the U.S. border with Mexico after the midterms.
"What the president wants to do is get a bigger down payment so it can be built faster," Paul Ryan said. "We intend on having a full-fledged discussion about how to complete this mission of securing our border, and we will have a big fight about it."
President Donald Trump has requested $5 billion for a wall, and the House Appropriations Committee passed the Fiscal Year 2019 Homeland Security Bill in January that included that amount for border security.
But the Associated Press (AP) reported funding so far falls far short of Trump's request:
Ryan said he and others in Congress did not think a funding fight made sense ahead of the midterms. Trump wants three times the $1.6 billion Congress has tentatively agreed to provide this year for the border wall with Mexico. The president threatened to force a shutdown over the issue, but instead signed legislation funding some parts of the government through Dec. 7.

Asked if he made a commitment to Trump for a shutdown over wall funds, Ryan said the blame would fall to Democrats, who are in the minority in Congress and largely oppose increased funding for the wall.
"We have a commitment to go fight for securing the border and getting these policy objectives achieved," Ryan said.
Trump signed a bill in September that funds about 70 percent of the government through the fall of 2019, but some agencies are only funded through the first week of December, including the Department of Homeland Security, which would be in charge of building the wall.
Ahead of midterm elections that could change the balance of power in Congress, Ryan touted the GOP's accomplishments since Trump was elected, including tax cuts, bolstering spending on the military and taking steps to address the opioid epidemic.
"Ryan warned against electing Democrats, saying the party has gone 'further left to the fringes' and only promises 'more disorder, more chaos,'" AP reported.
Follow Penny Starr on Twitter.
http://feedproxy.google.com/~r/breitbart/~3/MWN8tEq7TDE/