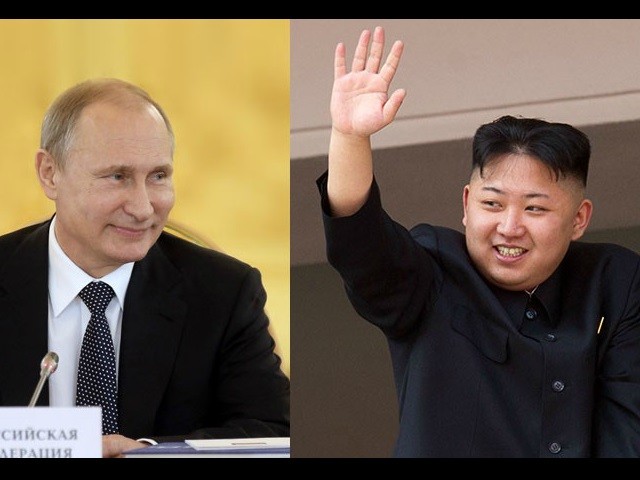 South Korea's ambassador to Russia revealed on Monday that North Korean dictator Kim Jong-un is likely to visit Russia this month amid warming relations between him and President Vladimir Putin.
South Korean Ambassador Woo Yoon-keun told reporters that although the two countries had not yet reached a formal agreement, the two sides were likely to meet before the end of November.
"Russia has asked for Kim's visit within this year and expects it to happen. But North Korea seems to be weighing the time and place while looking into the agenda and possible agreement with Russia," Woo said. "With Kim's visit to South Korea also planned this year, North Korea appears to be dwelling long on the time of his Russian trip."
Woo also confirmed that Vladimir Putin will visit South Korea within the next year in a bid to further progress with regard to their ongoing peace negotiations with North Korea.
"Russia will be a very important stepping stone to provide us with an opportunity to advance into the continent depending on the progress of inter-Korean relations," he continued. "We should make full use of Russia's potential, as bilateral relations have improved since Moon's inauguration."
In May, Russian Foreign Minister Sergey Lavrov visited Pyongyang, where he delivered a message inviting Kim Jong-un to Moscow for a meeting with Putin. The following month, Putin sent his own personal invitation to the young communist dictator, promising to build strong ties between the two regimes.
"I would like to re-extend, and ask you to convey to the leader of North Korea Kim Jong Un, our invitation to visit Russia," Putin said at the time. "We can schedule this meeting regardless of international events between our foreign ministries."
Responding to the invitation, 90-year-old ceremonial President Kim Yong-nam sent his leader's "sincere regards" while expressing his "absolute support of the people of Russia."
Russia and North Korea have developed close diplomatic ties since the end of the Korean War, with Russia providing essential economic assistance to the regime while opposing international sanctions and attempts to isolate the country economically. Putin was also a close ally of Kim Jong-un's father, Kim Jong-il, with the pair both holding state visits in their respective countries.
In 2015, the two countries announced a "Year of Friendship," involving various political, economic and cultural exchanges. That same year, Kim Jong-un was invited to visit Russia for the first time, although he later canceled the meeting due to "internal affairs."
Follow Ben Kew on Facebook, Twitter at @ben_kew, or email him at bkew@breitbart.com.
http://feedproxy.google.com/~r/breitbart/~3/4GWPBQdwbsI/