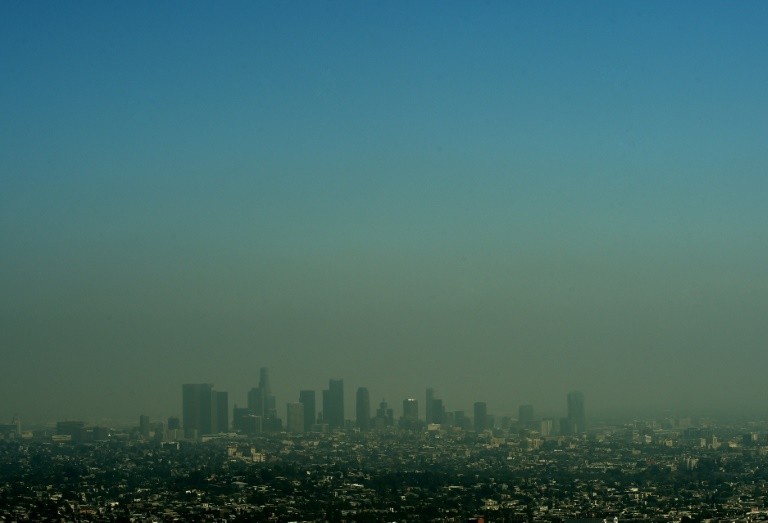 The South Coast Air Basin (SCAB) reported 87 days of days of unhealthy air due to an atmospheric high-pressure dome that raised ocean temperatures and drove wildfires.
The Los Angeles Times reported that the 87 days of violating federal smog standards for the "longest stretch of bad air in at least 20 years," demonstrating that California is now "losing the battle" to fight smog after decades of improving air quality.
SCAB Environmental Protection Agency to cover the air quality for all of Orange County and the non-desert regions of Los Angeles County, Riverside County, and San Bernardino County. EPA created a daily and hourly Air Quality Index of 0 to 500 in 1999 and updated the index in 2015.
The AQI is the sum of the 0 to 100 scores for ground-level ozone, carbon monoxide, particle pollution, nitrogen dioxide, and sulfur dioxide.  Greater levels of AQI score is associated with the greater the health concern. An AQI value of 50 or below represents good air quality; over 100 is unhealthy, and over 300 is considered hazardous.
Due to an atmospheric high-pressure dome that parked over the western edge of the North America this summer, the winds that push coastal surface waters offshore to allow cool waters from below to "upwell" to the surface and cool coastal California, reversed to blow from the south to push a "cap of warm ocean waters from San Diego to Santa Barbara," according to retired NASA climatologist Bill Patzert.
Sea surface temperatures compiled by NOAA's Coral Reef Watch averaged 5-10 degrees warmer than average this summer from Point Conception to Baja California. On August 1, 2018, a record water temperature of 78.6 degrees Fahrenheit was recorded near La Jolla, exceeding the previous record of 78.4°F set in 1931.
Bill Patzert told NASA's Earth Observatory: "This pattern is also driving the month-long heat wave suffocating California and it is a major cause of the explosion of Western wildfires." He added that the balmy ocean temperatures, heat waves, continuing Western drought and "explosive fire season" are all related to the high-pressure dome.
One reason for the high-pressure dome may subsided may be the increasing probability of an "El Nino" weather condition as Equatorial Pacific warm water spread eastward in August, boosted by periods of weak trade winds due to the high-pressure dome.
National Oceanic and Atmospheric Administration's Climate Prediction Center website now predicts a 50-55 percent probability to an El Niño by this fall and a 65-70 percent chance of an El Niño this winter.
Nebraska's Kit Radio warned Mid-West grain farmers that there is large enough pool of unusually warm water under the western Equatorial Pacific to allow "anomalous warm water" to continue to work its way eastward and reinforce surface warming. Kit added that the Gulf of Alaska and the northern Atlantic have also turned warmer than normal.
Farmers expect the combination of a warm Atlantic and warm Pacific will result in potential drought in the northern third of the continental U.S. and above normal dryness favored across the southern third from New Mexico through Georgia.
The northern jet stream should begin to weaken as more energy begins to strengthen the variable subtropical Pacific jet stream, pulling subtropical moisture northeastward out of the Equatorial Pacific and into the southwest coast of North American.
Instead of coming ashore in the Pacific Northwest, as usual, the altered moisture carrying jet streams will come onshore in California bringing "increased rainfall with accompanying floods, landslides, and coastal erosion," according to the UC Berkeley.
http://feedproxy.google.com/~r/breitbart/~3/7vn6LclCiqU/