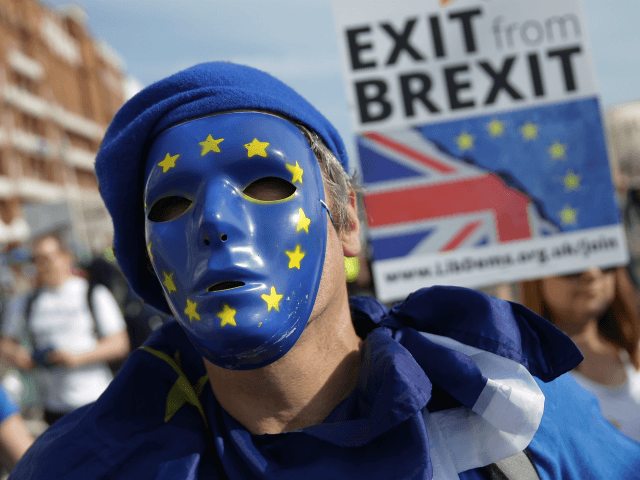 Factions of the Remain campaign have doubled down their attempts to stop Brexit after the Soros-backed Best for Britain group will target voters in 'swing' constituencies, while another group of anti-Brexit activists are taking their case to the European Union's highest court to see if MPs can vote to stop the UK leaving the bloc.
Best for Britain, which received £800,000 from Hungarian-American progressive campaigner George Soros, is planning to target more than one million Britons in 'swing vote' constituencies, reports The Guardian.
Partnering with the far-left group HOPE not Hate — which has received support from Soros's Open Society Foundations in the past — the anti-Brexit group said it has 'street-level data' on some 90 constituencies which voted 45 to 50 percent in favour of staying in the UK and will launch its volunteer drive at Labour Party conference.
Over eight weeks, volunteers for the 'We Want The Final Say' campaign will employ online targetting followed by delivering some half a million leaflets, aiming to convince voters to pressure their MPs to support a vote for the final Brexit deal.
Meanwhile, a cross-party group of politicians including Scottish Green MSPs and Labour and SNP MEPs have won an appeal at the Court of Session in Edinburgh to take their case to the EU Court of Justice to argue that Article 50 — the official mechanism for leaving the EU triggered in March 2017 — can be revoked without the permission of the other 27 member states.
'We cannot accept anything that threatens the integrity of our union': Defiant PM May blasts EU attitudes to Brexit after difficult Salzburg meeting https://t.co/ZSEeK8BjcR

— Breitbart London (@BreitbartLondon) September 21, 2018
If the EU court agrees, it could embolden Remain MPs to attempt to overturn the June 2016 referendum result in the event of a no-deal, or clean, Brexit or if they deem the terms of the Government's agreed deal with the bloc unsatisfactory.
A spokesman responded that the Government is committed to implementing referendum result and "will not be revoking Article 50".
The announcements by both camps intent on defying the will of the people came after Prime Minister Theresa May's Chequers plan — regarded as a 'Brexit in Name Only' by Leavers — was rejected by the other 27 EU leaders and Eurocrats following a meeting in Salzburg, Austria, this week.
In response, the Prime Minister made a surprise statement, indicating that the UK will accelerate no-deal Brexit preparations, saying that it was "not acceptable" for the bloc to reject the proposed terms without reason or counter negotiations. Appearing resolute, Mrs May said that "no deal is better than a bad deal".
Revealed: George Soros Pumps a Total of £800,000 into Anti-Brexit Campaign https://t.co/t0EkdBlOI0

— Breitbart London (@BreitbartLondon) April 11, 2018
Responding to Mrs May's speech, former Director General of the British Chambers of Commerce and Co-Chairman of Leave Means Leave John Longworth wrote for BrexitCentral that it "remains to be seen whether this is merely a ruse to get her [May] through the Conservative conference to be followed by a remarkable 'triumph' by the Prime Minister, in turn returning with a truly bad deal from some future EU meeting, a betrayal of the Brexit vote dressed up as a fulfillment of the democratic will of the people".
On Saturday, Leave Means Leave launches its "Save Brexit Campaign" in Bolton, featuring UKIP MEP Nigel Farage, former Tory Brexit secretary David Davis, and Labour MP Kate Hoey, with a scheduled six rallies across the country and a fringe event at the forthcoming Conservative Party Conference. The campaign aims to "ensure a clean Brexit and to determine that the so-called Chequers proposal is ditched".
Follow Victoria Friedman on Twitter at @FriedmanPress
Follow Breitbart London on Facebook and Twitter.
http://feedproxy.google.com/~r/breitbart/~3/-GFEcrGl_Gg/