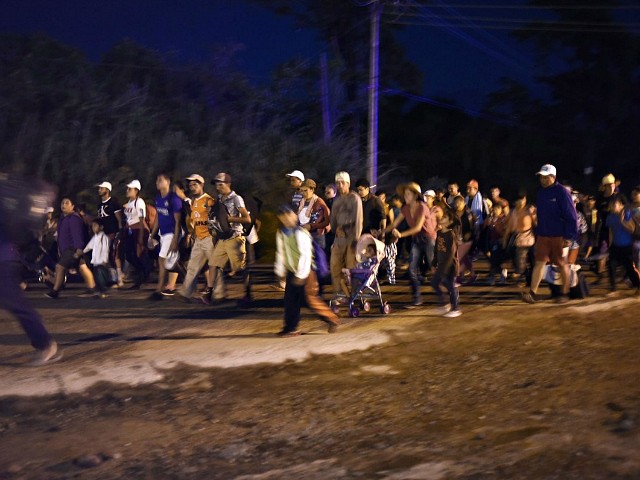 Attorneys backed by globalist left-wing billionaire George Soros are helping Central American migrants with a caravan headed to the United States with their asylum claims.
Close to 3,000 migrants with the caravan are currently in Tijuana, Mexico, awaiting the arrival of other Central American migrants who are continuing to travel up to the U.S. southern border.
At one point the caravan was anywhere between 7,000 to 10,000 members strong and mostly consists of migrants with ineligible asylum claims, which include job-seekers, previously deported illegal aliens, and Central Americans looking to get away from crime. None of these are eligible asylum claims.
According to the New York Times, lawyers with the National Lawyers Guild, a Soros-backed organization, are aiding the caravan migrants before they attempt to seek asylum in the U.S.:
Others have begun to deal in practicalities, walking a mile from the shelter to enter their names on a waiting list for an asylum interview. Some clustered around volunteer American lawyers who arrived at the shelter to explain the basics of asylum law. [Emphasis added]

"People don't flee their country and go through the arduous trip on foot unless the situation is desperate," said Gilbert Saucedo, a Los Angeles lawyer who helped organize the volunteers through the National Lawyers Guild. [Emphasis added]

"I have talked to maybe 100 people today," he said on Saturday, "and maybe 70 percent had credible cases on the surface." Yet many lack the documents they need to provide evidence. [Emphasis added]
Last week, Breitbart News reported how caravan migrants in Tijuana began scaling the U.S.-Mexico border fence. In response, the Department of Homeland Security (DHS) has placed razor wire along the fence.
Locals in Tijuana protested against the arrival of the caravan migrants, as Breitbart News reported, demanding they leave the city.
http://feedproxy.google.com/~r/breitbart/~3/6_sUHKPPRgc/