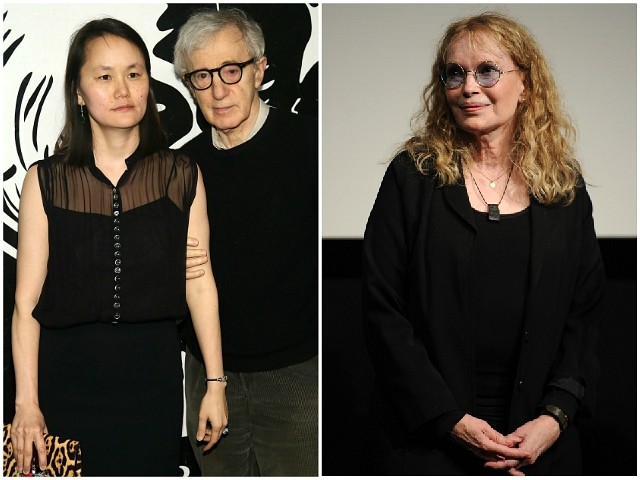 Soon-Yi Previn is now the second child of Mia Farrow's to accuse the actress of child abuse.
Twenty-seven years later, the 1991 breakup between Woody Allen and Mia Farrow still somehow manages to get even uglier. To recap…
In 1991, when he was 55-years-old and she was 21, Woody Allen and Previn began a sexual affair. At the time, he was Mia Farrow's boyfriend of 12 years, she was Farrow's adopted daughter, and it was an unforgivable betrayal. But many false rumors try to make it even worse.
To begin with, Previn was not Allen's daughter or stepdaughter or adopted daughter. Her adopted father is conductor André Previn, who was married to Farrow in the 1970s.
What's more, Allen did not live with Farrow and did not even sleep over. Allen and Farrow maintained separate apartments in separate buildings. Additionally, Allen was never a father figure to Previn. He was her mother's boyfriend, and father to some of her siblings.
Previn and Allen have now been married for 20 years and have two adopted children of their own.
None of the above is in dispute.
On August 4, 1992,  seven months after the affair between Previn and Allen had already exploded the family and the bitter custody battle had begun, Allen was accused of molesting his then seven-year-old daughter Dylan. Allen was eventually cleared of the allegations in New York and Connecticut. Neither found any evidence Dylan had been molested. Some did find evidence Farrow had coached Dylan to make the allegations. Allen was never charged.
The judge overseeing the custody hearing, however, felt different and Allen lost all parental rights.
Outside of this allegation, and over a 60-year career, Allen has never been accused of any kind of wrongdoing, not with anyone, much less a woman or child. When the alleged molestation took place, the house was filled with children and two adults, none of whom saw Allen take Dylan to where the alleged molestation took place. Although she stands by the allegation to this day, Dylan's story has not been consistent.
Nevertheless, Allen is being blacklisted by Hollywood. Actors and actresses have announced publicly they will not work with him and Amazon Studios has shelved Allen's latest film, the already completed A Rainy Day in New York, which cost $25 million. His future as a filmmaker is now up in the air.
In the house the day the alleged molestation took place was Moses Farrow, the adopted son of Allen and Mia. Moses was 14 at the time and back in January he released a statement in support of his father.
"So many times I saw my mother try to convince [Dylan]  she was abused – and it has worked." Moses tweeted after Dylan was interviewed on television."Someday, I hope Dylan can escape from my mother, confront the truth and begin her own healing[.]"
He added, "What breaks my heart the most is while I know that my sister, Dylan, believes what she says, I also know from my own experience, that it simply never happened[.]"
This is not the first time Moses said the molestation did not happen. Back in 2014, he told People: "The day in question, there were six or seven of us in the house. We were all in public rooms and no one, not my father or sister, was off in any private spaces."
"I hated him for her for years. I see now that this was a vengeful way [for Mia] to pay him back for falling in love with Soon-Yi."
Then, in May of this year, Moses again defended his father and went on to accuse Mia of both physically and mentally abusing him as a child.
And now, in a lengthy interview with New York Magazine's Daphne Merin (a longtime friend of Woody Allen's — which is disclosed in the piece) Soon-Yi is also accusing Farrow of mentally and physically abusing her as a child.
"I was never interested in writing a Mommie Dearest, getting even with Mia — none of that," Previn said. "But what's happened to Woody is so upsetting, so unjust. [Mia] has taken advantage of the #MeToo movement and paraded Dylan as a victim. And a whole new generation is hearing about it when they shouldn't."
As far as the abuse, Previn claims Mia created a hierarchy with her children that favored the white kids; Farrow would slap her face, use a hairbrush to spank her, throw dangerous objects at her, and once held Previn upside down to see if the blood draining to her head would make her smarter.
Previn says she has no good memories of life with Farrow, that she was treated like a domestic servant from a very early age, and that Farrow never expressed any love for her.
In his own May statement, Moses corroborates Previn's claim Mia threw objects at her ("a large porcelain centerpiece") and adds that Farrow once beat Previn with a telephone receiver.  He also details the alleged abuse he endured: slaps, humiliation, a full-body beating over the closing of some curtains…
For her part, Dylan stands by her mother and by her testimony about Allen molesting her. Her brother Ronan Farrow (the New Yorker reporter at the center of the #MeToo movement) says he believes his sister. Ronan was four-years-old and in the house when the alleged molestation took place.
In response to the Previn interview, and on behalf of herself and Mia's seven other surviving children, Dylan released a statement that says in part, "We stand by our mom, who has always been a caring and giving parent. None of us ever witnessed anything other than compassionate treatment in our home."
I'm grateful to my siblings for standing by me and my mother. Statement from Matthew Previn, Sascha Previn, Fletcher Previn, Daisy Previn, Ronan Farrow, Isaiah Farrow, and Quincy Farrow: pic.twitter.com/aBjWFUJjdH

— Dylan Farrow (@RealDylanFarrow) September 17, 2018
Dylan also released her own statement condemning Allen for the alleged molestation and standing by Mia.
My statement on New York Magazine: pic.twitter.com/xml6pdaZqb

— Dylan Farrow (@RealDylanFarrow) September 17, 2018
Ronan's statement blasted New York Magazine for allowing a friend of Allen's to write the piece and for the "lack of care for the facts" and "the refusal to include eyewitness testimony that would contradicts falsehoods."
Statement on New York magazine, which has done something shameful here: pic.twitter.com/xGeQP341OG

— Ronan Farrow (@RonanFarrow) September 17, 2018
Follow John Nolte on Twitter @NolteNC. Follow his Facebook Page here.
http://feedproxy.google.com/~r/breitbart/~3/U9M9K-8Dt4E/