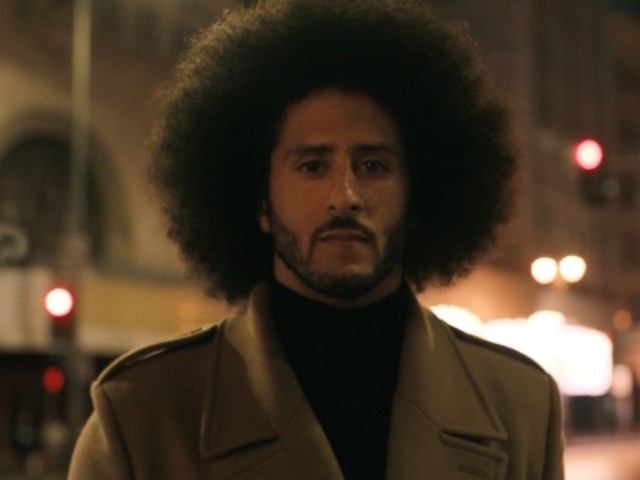 In the wake of Nike's Colin Kaepernick "Just Do It" ad, a growing number of college sports programs have been inundated with letters from fans and alumni urging them to drop Nike equipment and apparel.
After submitting a series of Freedom of Information requests, USA Today discovered dozens of letters to college sports programs by fans and school alumni who are incensed over Nike's choice of the anthem protesting, former NFL player as its public face.
Fans have sent letters to colleges in North Carolina, Arkansas, Kentucky, Louisiana, Oklahoma, West Virginia and more, the paper reported.
North Carolina athletics director Bubba Cunningham, for instance, received many such emails suggesting that the University of North Carolina dump Nike.
In one letter, for instance, alumni Larry Hill urged the school to dump Nike saying, "Nike in its support of Kaepernick is showing it's true colors of 'greed and support of politics in sports.' … Politics does not need to be involved in sports. I will still be supportive to 'My University' in continuing to purchase Carolina products and apparel, but not from Nike!"
Another message told Cunningham that Kaepernick is "misguided, (divisive), racist and Unamerican," while other messages were written in a similar vein.
Cunningham, though, was unbowed and told fans that the school would not be dropping Nike.
"Thank you for sharing your thoughts," Cunningham wrote to many of those who wrote the college. "As I'm sure you know, our University does not have a role in choosing who or how Nike promotes its brand and athletes. Our association with Nike goes far beyond this advertising campaign. We truly appreciate your continued support of Carolina. Go Heels!"
The University of Arkansas also received dozens of such notes, the paper said. One letter told athletics director Hunter Yurachek to announce that the school sports programs don't support Nike's work with Kaepernick. Another contrasted the school's razorback "pig mascot" with Kaepernick's disrespectful "pig socks" worn at practices for the San Francisco 49ers in 2016. Another writer said the school should not bother to ask him for future donations if the school continues to use Nike gear.
Kentucky athletics director Mitch Barnhart also found upset fans. One man told Barnhart that his life had revolved around the school's sports programs in the past, but that will come to an end unless the school dumps Nike.
"The news from Nike is very troubling. I cannot support a company that rewards un-American actions. Will this cause me to divorce Kentucky?" fan Charles Schweinhart warned before noting that he might start rooting for another Kentucky school over the issue.
Similar letter streamed into the sports departments at Louisiana State University, Oklahoma State, and West Virginia University.
Follow Warner Todd Huston on Twitter @warnerthuston.
http://feedproxy.google.com/~r/breitbart/~3/z6CFim_2IEU/