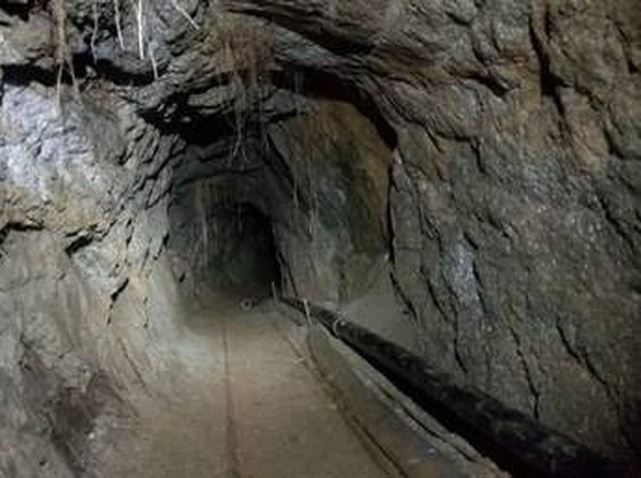 The investigation of a recently discovered yet incomplete narco-tunnel into California revealed structural features such as a rail system and ventilation powered by solar energy.
The tunnel was originally discovered by the Mexican military in coordination with the Baja California Norte State Preventive Police (PEP) on September 20 in the rural farming community of Ejido Jacume, located on the outskirts of Tecate. Security forces received an anonymous tip about the location. Authorities found the remote property with a residential structure containing a tunnel. The property sits approximately 221 feet south of the U.S.-Mexico Border.
One day after the tunnel was discovered, the scene was taken over by the Office of the Attorney General of Mexico (Procurador General de la Republica, or PGR). The PGR was issued a search warrant and they authorized the U.S. Border Patrol's Western Corridor Tunnel Interdiction Group (WCTIG) to enter the structure from the Mexican side for the purpose of mapping and determining if an exit existed within the United States.
On October 4, U.S. agents were able to determine the tunnel entry point had a shaft approximately 31 feet deep with a total length of 627 feet–336 feet were inside the United States. The average dimensions of the tunnel in the United States were three feet in height and roughly 2.5 feet in width. Agents reached an exit shaft that went approximately 15 feet toward the surface but remains unfinished.
The tunnel had a full-length rail system with electricity, ventilation, and lighting. Agents reported a solar panel powered the structure. There were also two sump-pumps to remove any collected water.
The tunnel is the fifth discovery of its kind under the administration of Governor Francisco Arturo Vega de Lamadrid as part of the "Cruzada por la Seguridad, Tarea de Todos" ("Crusade for Security, everyone's task").
Breitbart Texas reported on several incidents in the northern border region of Baja California and the United States. Police discovered a major drug lab on August 25, resulting in the seizure of four tons of methamphetamine. A fentanyl lab was also recently found in nearby Mexicali, where 20,000 tablets were seized along with precursor chemicals. In April 2018, a sophisticated tunnel measuring approximately 740 yards from Mexicali to Calexico, California, was discovered by the Mexican Army and Federal Police.
Robert Arce is a retired Phoenix Police detective with extensive experience working Mexican organized crime and street gangs. Arce has worked in the Balkans, Iraq, Haiti, and recently completed a three-year assignment in Monterrey, Mexico, working out of the Consulate for the United States Department of State, International Narcotics and Law Enforcement Program, where he was the Regional Program Manager for Northeast Mexico (Coahuila, Tamaulipas, Nuevo Leon, Durango, San Luis Potosi, Zacatecas.)
http://feedproxy.google.com/~r/breitbart/~3/7p-gO0V01XE/