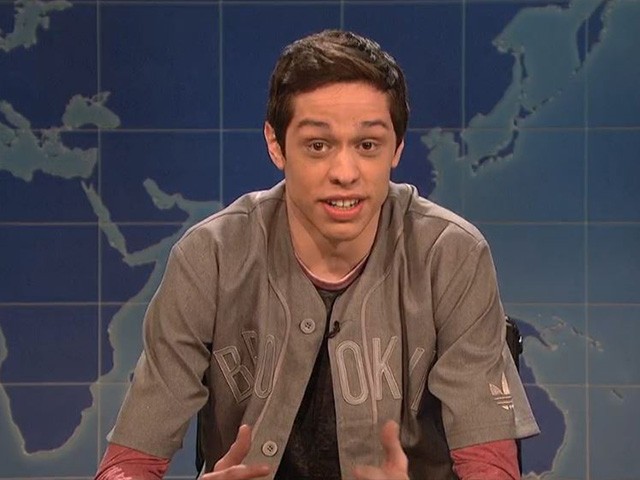 Following Saturday Night Live's Pete Davidson mocking a GOP congressional candidate who lost an eye fighting in Afghanistan, angry fans have swarmed the show's Facebook page to show their displeasure.
"Not only does Pete Davidson need to be FIRED immediately, he needs to make a formal apology and be blacklisted for life.. what a jackhole. Complete disregard for Americans that actually put their lives on the line every day as opposed to a wannabe..completely disgusting!! Shame on you SNL for airing this!!!" one commenter wrote.
Another man swiped at Davidson for his joke and for his recent breakup with pop singer Ariana Grande.
"You don't mock a veteran because he lost his eye in service to this country. I didn't like when 45 mocked Senator McCain, and I do not like this either. There is no difference," he wrote. "Davidson has been a punk for his entire tenure on SNL. He is never in the main skits, he bragged on-air recently (on numerous episodes of SNL) when he got engaged to Ariana Grande. Then she dropped his ass like a bad habit. Time for Lorne Michaels to follow suit."

Davidson, who inexplicably has a tattoo of Hillary Clinton, sparked outrage on both the right and the left Sunday after mocking Dan Crenshaw, who lost his eye fighting in Afghanistan. Davidson said Crenshaw looked like a "hitman in a porno movie."
Other Facebook users voiced their objection to the joke.
"SNL hasn't been funny in years . They really must be running out of material If they need to make fun of wounded war hero," one woman said.
Another user wrote, "Mocking wounded vets? Can't wait until next week when they make fun of kids with cancer! I'm old enough to remember when SNL was funny – and relevant."
http://feedproxy.google.com/~r/breitbart/~3/0d17TGUtnPw/