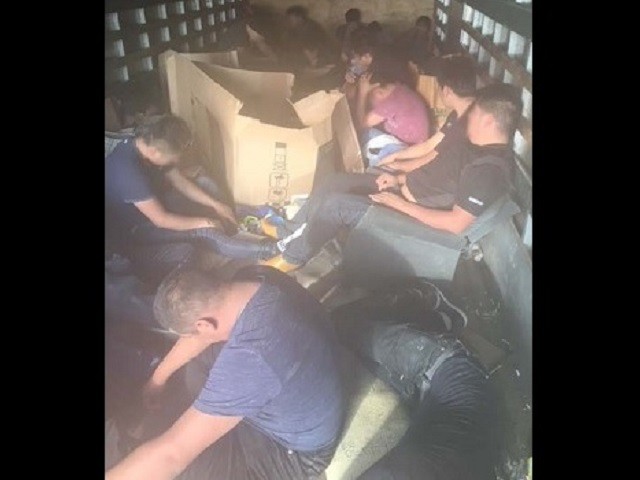 Border Patrol agents in the Laredo Sector found 24 migrants locked in a 100-degree box truck. The agents made the discovery at an inland immigration checkpoint.
Laredo Sector agents assigned to the U.S. Highway 59 immigration checkpoint near Freer, Texas, observed a box truck approaching for inspection on October 12 at about 5:30 in the afternoon. During the primary inspection and immigration interview, a K-9 agent alerted to the possible presence of drugs or humans in the cargo area of the truck, according to Laredo Sector Border Patrol officials.
The agents directed the U.S. citizen driver to the secondary inspections station. However, the driver ignored the order and fled the station. Agents began a pursuit and stopped the truck approximately two miles away, officials stated. The agents placed the driver under arrest for fleeing the checkpoint.
During a search of the truck's cargo area, agents found 24 people hidden inside. Officials said the temperatures inside the box truck were in excess of 100 degrees. Despite this, none of the 24 migrants required medical attention.
Officials seized the truck and turned the driver over to U.S. Immigration and Customs Enforcement's Homeland Security Investigations for possible human smuggling charges.
Laredo Sector officials did not disclose the nationality of the 24 migrants rescued from the box truck. The migrants will be processed for immigration violations, officials reported.
Bob Price serves as associate editor and senior political news contributor for Breitbart Border/Cartel Chronicles. He is a founding member of the Breitbart Texas team. Follow him on Twitter @BobPriceBBTX and Facebook.
http://feedproxy.google.com/~r/breitbart/~3/3nuekS51SO0/