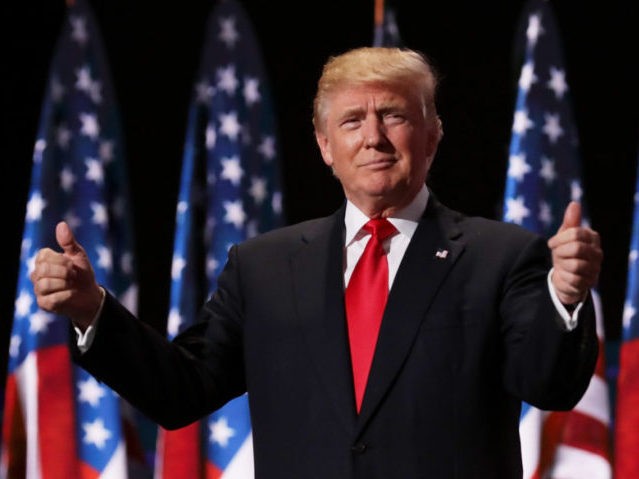 The Republican National Committee (RNC) announced six ways that President Donald Trump has defeated Democrat mob tactics with a strong economy and jobs for the American people. This comes just days ahead of the midterm elections, when voters decide the party that will be in power in the House of Representatives and the Senate.
According to the announcement:
Democrat attempts to sell an anti-Trump economic message have fallen flat as the booming economy makes their doom and gloom message increasingly less believable.

In the absence of a coherent message, Democrats have resorted to encouraging "extremist" ideas, harassment, and mob-like behavior as part of their 2018 midterm strategy.

While Democratic leaders are busy fomenting agitation, President Trump and Congressional Republicans have created the "strongest labor market in a generation."

Though it is "extremely rare" for unemployment to dip below 4%, it currently sits at 3.7% and has averaged 3.9% in 2018.
GDP hit 3.5% in the third quarter of 2018, marking the best back-to-back quarters of growth since 2014, and putting the U.S. on track to hit 3% annual growth for the first time since 2005.
The labor market has been strong under President Trump, adding nearly 4 million jobs since he took office, and consumer confidence reached nearly a two-decade high in October.

President Trump's thriving economy is reaching those previously left out of the economic recovery.

Minorities, especially young minorities, have experienced record low unemployment.
Low-income households are increasingly confident about their economic future as the economic recovery has begun to help all population groups.
As Breitbart News reported, Trump's economic policies are also helping the manufacturing sector:
The United States added 32,000 new manufacturing jobs in October, more than 1,000 every day, including holidays and weekends. Twenty-one thousand of the new manufacturing goods were in durable goods manufacturing, including more than 10 thousand in transportation manufacturing. More than 6,000 new jobs were added in autos and auto parts. Nearly 5,000 jobs were added by makers of machinery.
October was also a strong month for employment overall, with the economy adding 250,000 jobs, far exceeding expectations of 190,000, Breitbart News reported.
Follow Penny Starr on Twitter.
http://feedproxy.google.com/~r/breitbart/~3/3fiQ9UwevW4/