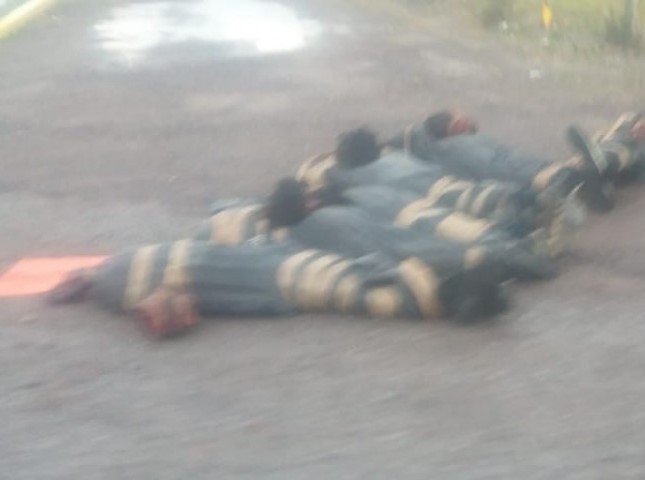 Six decapitated bodies dumped in the border state of Chihuahua last month have been identified as cartel gunmen by Mexican government authorities. They are believed to be victims in an ongoing cartel war between El Nuevo Cártel de Juárez and the Sinaloa Cartel—La Gente Nueva.
The six decapitated bodies were wrapped in blankets and dumped in the in the rural mountain community of Creel. Authorities identified the remains as members of La Gente Nueva — a cell of the Sinaloa Cartel — according to information released by the state prosecutor's office.
Local authorities reported that they were able to recover cell phone images and video recordings from a cell phone that was recovered belonging to one of the six victims. The six can be seen posing with rifles while claiming to be from Los Mochis Sinaloa and belonging to La Gente Nueva.
Authorities identified the six headless bodies as Óscar Manuel López Encinas, 29; brothers Tomás Gerardo and Jesús Roberto Miranda Cota, 23 and 25; Jesús Alberto Cano Rodríguez, 23; Joel Onofre Santos Bojórquez, 27; and José Rosario Morales García, 38. All six are reported to be from Los Mochis, Sinaloa.
As reported by Breitbart News,  the six decapitated dumped bodies were discovered with an orange cardboard narco-sign the killers left with the bodies. The signs indicated the leader of the Nuevo Cártel de Juárez carried out the attack.
The sign mocked the Sinaloa Cartel with a message stating, "Here are your brave sicarios (assassins), send me what you want (for them)." The message was from the presumed leader of the Nuevo Cártel de Juárez, César Daniel Manjarrez Alonso aka "H2." The message was directed at "Tony Tormenta" who, according to Breitbart's law enforcement sources, is Lorenzo Antonio Morales Pérez and works for the Sinaloa Cartel.
Morales Pérez, aka Tony Tormenta, is not to be confused with notorious former Gulf Cartel drug lord Antonio Ezequiel Cárdenas Guillén, aka "Tony Tormenta," who was killed by the Mexican Navy in Matamoros in 2011.
Authorities indicated that "H2" assumed control of the Juárez Cartel and "La Línea," now called El Nuevo Cártel de Juárez. This criminal group operates in the mountainous communities southwest of the state capital of Chihuahua and along the much-disputed border region with Sonora.
Robert Arce is a retired Phoenix Police detective with extensive experience working Mexican organized crime and street gangs. Arce has worked in the Balkans, Iraq, Haiti, and recently completed a three-year assignment in Monterrey, Mexico, working out of the Consulate for the United States Department of State, International Narcotics and Law Enforcement Program, where he was the Regional Program Manager for Northeast Mexico (Coahuila, Tamaulipas, Nuevo Leon, Durango, San Luis Potosi, Zacatecas.) You can follow him on Twitter. He can be reached at robertrarce@gmail.com
http://feedproxy.google.com/~r/breitbart/~3/lFxcB6fcnOI/