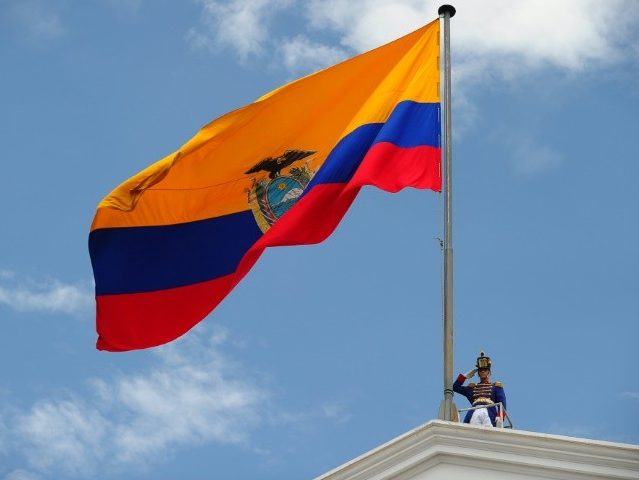 Ecuador declared the Venezuelan ambassador to Quito, Carol Delgado, persona non grata on Thursday after Venezuelan Communications Minister Jorge Rodríguez called Ecuadorian President Lenin Moreno a "liar" and implied he was acting on U.S. orders.
The Venezuelan Minister of Communication and Information is a post roughly equivalent to the U.S. press secretary, the top spokesman for the federal government.
Rodríguez delivered a tirade this week against Moreno's remarks before the United Nations General Assembly last month, where he testified that 6,000 Venezuelans a day were entering Ecuador suffering severe illness and malnutrition.
Speaking to reporters on Wednesday, Rodríguez said of Moreno, "He's a liar, and he dares lie on the podium of the United Nations because that is what they ordered him to do to set up this farce he's putting together."
"He said his country takes in 6,000 sick Venezuelans a day … and the statistic he gave of one million Venezuelans in Ecuador could only be possible if 140 buses left Venezuela every day for seven years," he alleged.
The Ecuadorian government responded with a sternly worded letter calling Rodríguez an "embarrassment" to Venezuelans and announcing that his "offensive" comments would result in the expulsion of Ambassador Delgado.
"The National Communication Ministry … said the declarations by [Rodríguez] show that the corrupt, murderous, and lying socialism of the 21st century still lives in Venezuela, triggering the largest mass migration in the history of its citizens by the sinister administration of Mr. [Nicolás] Maduro," the statement read.
The letter goes on to repeatedly call the Venezuelan government "sinister" or "nefarious" and refers to Rodríguez as a "poor excuse for a human being."
Rodríguez's Ecuadorian counterpart, Andrés Michelena, also told reporters that Rodríguez was "embarrassing." "Some Venezuelans are beloved and others, like him, are embarrassing," he shrugged.
The Venezuelan socialist regime responded by expelling its Ecuadorian ambassador on Friday and declaring Ecuador's response "an unprecedented act threatening the historical ties of brotherhood" between the nations. It further expanded upon Rodríguez's accusation of a conspiracy, naming the previously mentioned "they" as the U.S. government and blaming Vice President Mike Pence, in particular, for allegedly giving Moreno new marching orders regarding how to treat Venezuela.
The statement posted on the state-run Venezuela television website adds that Maduro's regime regards the Ecuadorian government's decision as "intolerant and disproportionate," compared to Rodríguez's "scientific and rational" declaration that Moreno is a liar. Moreno's U.N. speech, it continued, was an "unprecedented act of aggression against Venezuela" and reiterated that Venezuela considers his remarks to be lies.
Moreno's U.N. speech was similar to many Latin American nations speaking at the General Assembly, as Ecuador joins neighbors like Colombia and Brazil in taking in millions of starving Venezuelan refugees.
"In Ecuador, we are receiving at least 6,000 Venezuelan brothers daily," Moreno told the General Assembly. "The children come with chickenpox, with diphtheria and polio; pregnant women come having never taken birth control."
The president added that Ecuador has provided "tens of thousands of medical checkups to the over one million brothers who have fled their home to seek a better fortune in the largest diaspora in the history of our continent."
"No one emigrates out of their own will. They do it because they see themselves forced into uprooting, into painful familial and emotional dismemberment," Moreno noted, addressing the Venezuelan government as "dark, sinister, full of corrupt mafias."
In contrast, Maduro told the United Nations as his General Assembly speech that Venezuela "is stronger than ever" and only a "permanent aggression" on the part of the United States damaged the Venezuelan economy.
Moreno was elected as an ally of his predecessor, the socialist Rafael Correa, one of Maduro's closest allies on the continent. He has dramatically changed Ecuadorian policy towards Venezuela, however. This year, Ecuador withdrew from the Venezuela- and Cuba-led economic bloc known as ALBA, citing Maduro's refusal to change policies to improve the lives of Venezuelans. Maduro also withdrew funding for the radical leftist broadcasting outlet Telesur and, rather than support Maduro, has encouraged fellow states to challenge the Maduro regime to either change its policies or step aside.
Follow Frances Martel on Facebook and Twitter.
http://feedproxy.google.com/~r/breitbart/~3/6L_ZNMZV4Io/