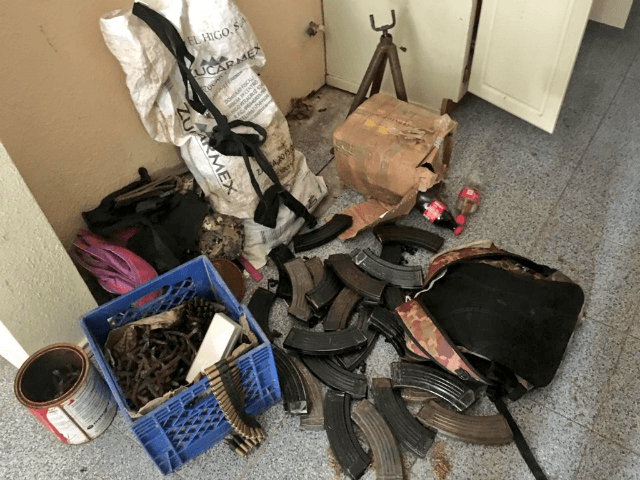 The Mexican Army discovered a weapons arsenal belonging to the Sinaloa Cartel in the border city of Nogales, Sonora, earlier this week.
Members of the Mexican Army (SEDENA) 45th Military Zone were patrolling in the border city of Nogales in the Jardines del Bosque neighborhood when they located a pickup truck which they had previously received information about parked on a residential street, according to a report by local media. Upon examining the truck, a Toyota Tundra, officials discovered the truck was reportedly stolen from Phoenix, Arizona. Upon peaking inside the cabin of the truck, military personnel observed numerous military-grade rifles and tactical vests.
The soldiers carried out a complete search of the truck and found a total of six AK-47, caliber 7.62 x 39 mm rifles, a 12-gauge shotgun, 34 7.62 x 39 mm magazines, 1,170 7.62 x 39 mm rounds, seven ballistic vests, four tactical ammo magazine vest carriers, and 50 user quantity packages of marijuana.
Officials seized the contraband, photographed it, and presented to local media outlets. Two of the ballistic vests were marked with "Gente Nueva" and "GNS" along with a small Mexican flag. Gente Nueva or GNS signifies, La Gente Nueva de Los Salazar—or the initials GNS.  The Gente Nueva is a Transnational Criminal Organization (TCO) and is an enforcement/smuggling organization that works as an element of Los Salazar TCO, La Gente Nueva are based out of Navajoa, Sonora, Mexico, which is in the southern section of the state. Both Gente Nueva (GN) and Los Salazares TCO's are elements of the Sinaloa Cartel (CDS).
Breitbart Texas law enforcement sources indicated that La Gente Nueva is responsible for most of the cartel violence breaking out in the state of Sonora recently, as they work to re-enforce their dominance over other criminal groups in the region. Most recently, the ambush killings of five municipal police officers in Guaymas Sonora and the shocking discovery of seven heads abandoned in an ice cooler in the rural community of Bácum, Sonora, in mid-September have been attributed to La Gente Nueva.
La Gente Nueva de Los Salazar works as an enforcement wing of the Sinaloa Cartel and is heavily involved in drug and human smuggling activities into the state of Arizona. La Gente Nueva is heavily involved in illegal drug trafficking, human smuggling, home invasion armed robberies, and homicides for the organization in the Phoenix metro area.
In 2017, Breitbart Texas reported on leaked images taken in a region of the Tucson Border Patrol Sector located in the Huachuca Mountains. This region is controlled by Los Salazar and the leaked U.S. government surveillance images exclusively obtained by Breitbart Texas show armed Mexican cartel smugglers crossing the U.S.-Mexico border and entering into Arizona. Armed cartel scouts are deployed into southern Arizona's smuggling regions to protect loads of marijuana and illegal immigrants being moved to drop houses and later to their destinations throughout the United States.
Robert Arce is a retired Phoenix Police detective with extensive experience working Mexican organized crime and street gangs. Arce has worked in the Balkans, Iraq, Haiti, and recently completed a three-year assignment in Monterrey, Mexico, working out of the Consulate for the United States Department of State, International Narcotics and Law Enforcement Program, where he was the Regional Program Manager for Northeast Mexico (Coahuila, Tamaulipas, Nuevo Leon, Durango, San Luis Potosi, Zacatecas.) You can follow him on Twitter. He can be reached at robertrarce@gmail.com
http://feedproxy.google.com/~r/breitbart/~3/9AtycRrrvP8/