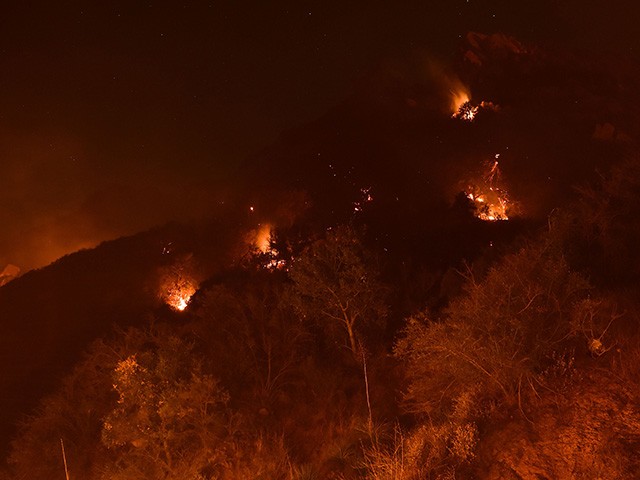 A fast-moving brush fire broke out in California's San Bernardino County overnight, torching over 140 acres as of Wednesday morning.
Referred to as the Sierra Fire, the San Bernardino County Fire Department say the blaze was sparked after 9 p.m. local time in the Rialto area near Riverside and Sierra avenues. As of Wednesday morning, the blaze scorched 147 acres.
"The fire appeared to lose strength as it moved south and away from homes late Tuesday night. It had grown from about 3 acres to approximately 20 acres within minutes as the fire. Several firefighters in fire trucks and a bulldozer immediately responded to the blaze while strong wind gusts appeared to move most of the flames away from nearby homes," ABC 7 reports.
Everyone in Rialto be safe!! pic.twitter.com/pHgtPg9knR

— Jose (@JoseAlbert69) November 14, 2018
At this time, no structures were found to have caught fire.
Meanwhile, authorities have reported six more fatalities from a blaze in Northern California, bringing the total number of fatalities so far to 48 in the deadliest wildfire in state history.
The announcement came Tuesday after authorities ramped up the search for more victims buried in rubble left by the blaze that incinerated the town of Paradise.
Many friends and relatives of those living in the fire zone say they haven't heard from loved ones. Some went to shelters looking for them.
More than 5,000 firefighters are still battling the blaze that charred 195 square miles (505 square kilometers) since it started Thursday.
The fire has destroyed about 7,700 homes and displaced 52,000 people.
The statewide death toll from wildfires over the past week in California has reached 50.
The Assosssicated Press contributed to this report. 
http://feedproxy.google.com/~r/breitbart/~3/0KmjtJpw5ws/