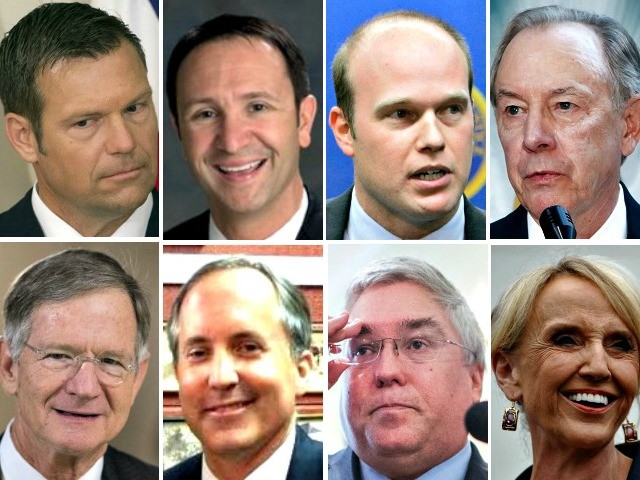 As former Attorney General Jeff Sessions departed the Department of Justice (DOJ), a short list of potential replacements has surfaced in Washington, D.C.
Below, Breitbart News has compiled eight "America First" candidates for Attorney General.
Kris Kobach
Currently, Kobach is serving the last couple of months as Kansas's Secretary of State. Kobach previously served as an adviser to President Trump on immigration, and most notably wrote Arizona's SB 1070 law that made it a state crime to be in the country as an illegal alien.
Having fought the open borders lobby in the courts, Kobach is the most obvious choice to replace Sessions when it comes to suing the state of California for their sanctuary state law. Kobach is likely to expand on Sessions' border reforms and tightening of asylum loopholes.
Kobach has also been at the forefront of tackling voter fraud. He has taken on the American Civil Liberties Union (ACLU) which has attempted to stop his election integrity law that requires voters to prove their citizenship. Kobach has taken on 14 cases of voter fraud in Kansas since 2015. Those cases have either already ended in convictions or are currently pending.
Jeff Landry
Landry is Louisiana's sitting Attorney General and the president of the National Associated of Attorney Generals. As a staunch conservative and ally of Trump, Landry encouraged then-AG Jeff Sessions to break up social media tech giants, saying "I think the companies are too big and they need to be broken up." That would be a welcome sentiment to the Trump administration, which has railed against the censorship of conservatives online.
The Louisiana Attorney General, in August, made clear how he would handle corporate gun control by denying a $600 million road financing plan to Citibank and the Bank of America after both companies placed new gun controls on banking customers. In an exclusive interview with Breitbart News, he slammed the corporations for "trying to become the social police."
Landry also pushed to outlaw sanctuary cities in Louisiana — a sign he is willing and ready to take on Sessions' California lawsuit — though the state's Democrat and Republican political establishments stopped the measure from becoming law.
Matthew Whitaker
Acting Attorney General Matt Whitaker, who has immediately taken over since Sessions' resignation, is said to be in the same populist-nationalist mold as his former boss, sources tell Breitbart News. Whitaker formerly worked closely with Sen. Chuck Grassley (R-IA) — who praised him this week.
Whitaker had served as Sessions' chief of staff since October 2017, making him a close ally to the former Alabama senator during major battles at the Justice Department, including filing suit against California, defending Trump's travel ban in court, and the agency's effort to cripple the drug cartels.
Similar to many conservative legal scholars, Whitaker has criticized the power the Supreme Court has amassed in the enacting of public policy. More specifically, Whitaker attacked the landmark Marbury v. Madison ruling that established judicial review.
Judge A. Raymond Randolph
Randolph is on the D.C. Circuit Court of Appeals and had friendships with both newly-confirmed Supreme Court Justice Brett Kavanaugh and former Solicitor General Robert Bork. Randolph shot to fame during the Bush era when he wrote the landmark majority opinion that stated that Guantánamo Bay detainees did not have rights under the U.S. Constitution.
When the Supreme Court overturned Randolph's majority opinion, he blasted the decision in a speech at the Heritage Foundation, calling the ruling "The Guantanamo Mess" and delivering the same style of robust defense of national security that Trump often deploys.
Lamar Smith
The Texas congressman is set to retire after this year. In Congress, Smith was most notable for championing protections for American workers against wage-crushing illegal immigration and illegal hiring by repeatedly advocating for mandatory E-Verify. At the Justice Department's Civil Rights Division, Smith would likely continue Sessions' crackdown on businesses that are caught abusing visa programs to hire foreign workers over American citizens.
Two cases before the Justice Department at the moment involve Harvard and Yale, where both are accused of discriminating against Asian-Americans in their admissions process. Smith in the late 1990s voted to end preferential treatment by race in college admissions.
Ken Paxton 
The current Attorney General of Texas made headlines in the last two years when he led a lawsuit against the federal government, mandating that President Obama's Deferred Action for Childhood Arrivals (DACA) program be immediately ended.
Paxton's lawsuit ultimately forced the Trump administration into ending DACA sooner than they had planned. This suit is of particular importance because the Justice Department is requesting that the Supreme Court bypass the Ninth Circuit Court of Appeals and review the legality of the administration's ending of the amnesty program.
On health care, Paxton filed suit against Obama's signature legislation, Obamacare, calling it unconstitutional on grounds that the law violates states' rights.
Patrick Morrisey
Morrisey is the West Virginia Attorney General who last week lost his bid against Democrat Sen. Joe Manchin and has been called the "tip of the spear" for the anti-establishment movement against the Washington, D.C. beltway. Morrisey is staunchly pro-Second Amendment and pro-life, touting his support for a constitutional amendment to ban taxpayer-funded abortions.
In a state like West Virginia, which has been inundated with illegal drugs, Morrisey has made combatting the opioid crisis, drug trafficking, and drug lords a major priority of his tenure as the state's Attorney General. Morrisey successfully forced the hand of the Drug Enforcement Agency (DEA) to change national drug policy that he said will lead "to significant reductions in the illicit pills that flow into our state."
Morrisey started the "Combating Addiction with Grace" program in West Virginia, which seeks to fight the state's drug epidemic by working closely with faith-based organizations to form plans of action.
Jan Brewer
Former Arizona Governor Jan Brewer is likely the most famous of all the eight potential candidates for Attorney General. While governor, Brewer signed into law SB 1070 — which Kobach authored — to criminalize illegal immigration in the state. In 2011, Brewer said the action was necessary because the federal government refused to secure her state's border with Mexico.
During her time as a lawmaker and governor, Brewer has earned an A+ rating from the National Rifle Association (NRA). This is noteworthy because the Justice Department in March proposed a regulation to ban bump stocks despite little support for such gun control measures among Trump's base of support.
http://feedproxy.google.com/~r/breitbart/~3/ZVA7P3T4mZs/