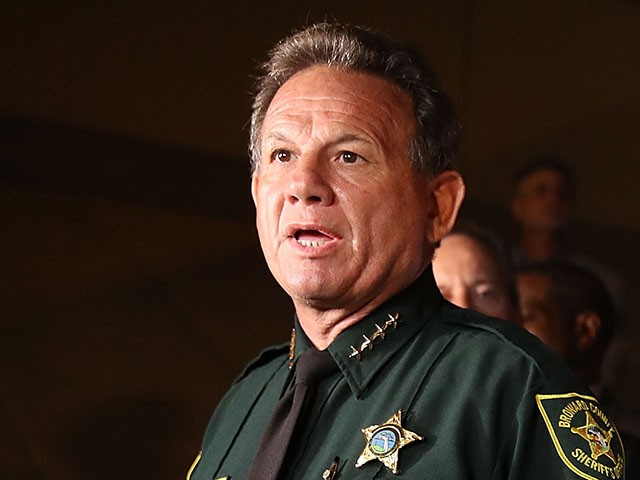 Broward County Sheriff Scott Israel said in February that one of his deputies reported "shots fired" on the Marjory Stoneman Douglas High School campus but now says that deputy never got on the radio to advise that a shooting was underway.
In fact, the former deputy, Scot Peterson, stood outside Building 12 on the campus while the shooting occurred, and recordings of Peterson's radio communications reveal that he said, "Shots fired."
During an interview on February 25, 2018, Sheriff Israel told CNN, "One of Peterson's utterances on the radio, I think one or two times he actually said, 'Shots fired.'"
Israel went on to deny that there was more than one Broward County Sheriff's Office member at the school while the dispatcher was taking calls about the attack. But Andrew Pollack, father of Marjory Stoneman victim Meadow Pollack, posted recordings in which two other Broward County Sheriff's deputies are also heard radioing in "Shots fired":
Watch Sheriff Israel lie to the public and families about what happened during the Parkland shooting.

He says deputies stood outside mid shooting because they never heard "shots fired." He lied & kids died!

Retweet to make this lying, failed, and corrupt Sheriff go viral.#fixit pic.twitter.com/17q2v4X4Bq

— Andrew Pollack (@AndrewPollackFL) December 8, 2018
When Sheriff Israel spoke to the Marjory Stoneman Douglas High School Public Safety Commission on November 15, 2018, he said, "I don't have any reason to believe that any member of our agency knew there was an active shooter."
AWR Hawkins is an award-winning Second Amendment columnist for Breitbart News, the host of the Breitbart podcast Bullets with AWR Hawkins, and the writer/curator of Down Range with AWR Hawkins, a weekly newsletter focused on all things Second Amendment, also for Breitbart News. He is the political analyst for Armed American Radio. Follow him on Twitter: @AWRHawkins. Reach him directly at awrhawkins@breitbart.com. Sign up to get Down Range at breitbart.com/downrange.
http://feedproxy.google.com/~r/breitbart/~3/dDQgTOR-SdI/