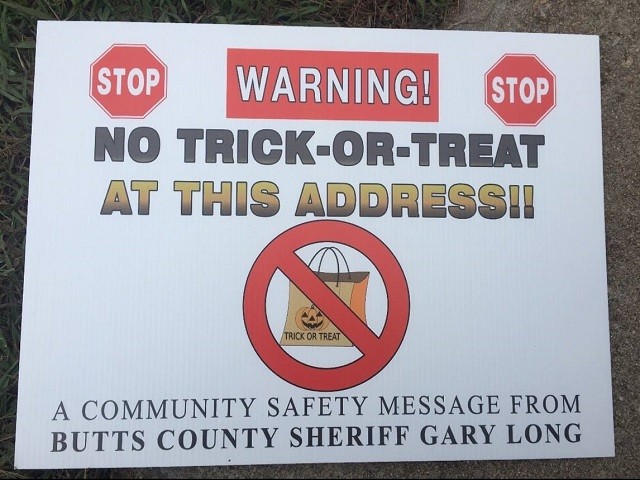 A Georgia county sheriff is taking the extra step to make Haloween safer this year by placing "No Trick-or-Treat" signs in the front yards of registered sex offenders.
"WARNING: No Trick-Or-Treat At This Address!!" read the signs placed in front of every registered sex offender in the county by Butts County Sheriff Gary Long.
"As Sheriff, there is nothing more important to me than the safety of your children," Long said in a Facebook post. "This Halloween, my office has placed signs in front of every registered sex offender's house to notify the public that it's a house to avoid."
The sheriff stated that the signs comply with Georgia Law which states that the sheriff "shall inform to public of the presence of sexual offenders in each community." He also said that state law prohibits registered sex offenders from participating in Halloween — including decorations on their property.
"With the Halloween on the square not taking place this year, I fully expect the neighborhoods to be very active with children trick-or-treating," Sheriff Long concluded. "Make sure to avoid houses which are marked with the attached posted signs in front of their residents. I hope you and your children have a safe and enjoyable Halloween."
Reactions to the post varied. One respondent said, "I'm not a sex offender, but I'd love one of these signs."
While another said, "I am all for this sign! I really am."
A person with an opposing view said, "I'm sorry but I'm totally against this sign garbage. Not only have they made these individuals an even more open target but the members that possibly are living at the address as well. "
Bob Price serves as associate editor and senior political news contributor for Breitbart Border/Cartel Chronicles. He is a founding member of the Breitbart Texas team. Follow him on Twitter @BobPriceBBTX and Facebook.
http://feedproxy.google.com/~r/breitbart/~3/8F3x-9k01B8/