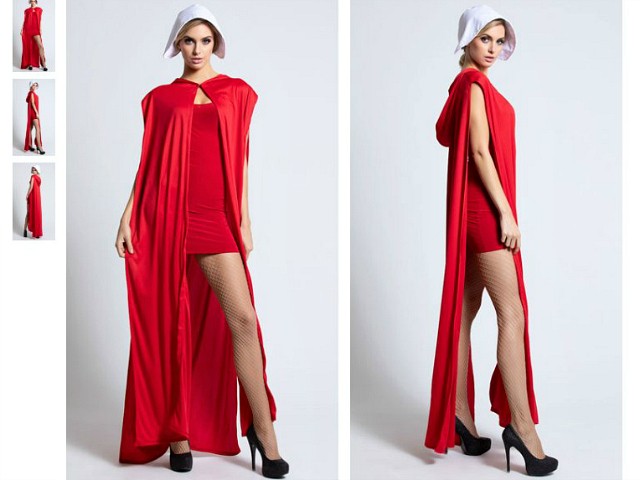 Fashion brand Yandy posted a "brave red maiden" costume based on the dystopic Handmaid's Tale book and television series but removed it under a tsunami of criticism.
"An upsetting dystopian future has emerged where women no longer have a say," the storefront description read. "However, we say be bold and speak your mind in this exclusive Brave Red Maiden costume." The costume included a "red mini dress, a matching cloak with an attached hood, and a white bonnet headpiece."
No, no, no, no, no, no, no, no. pic.twitter.com/SFnoK80VAH

— Nathalie Gordon (@awlilnatty) September 21, 2018
People were not impressed. In a story about a world in which women in that garb are reduced to literal sex slaves, many suggested that sexing them up was just a little bit tone-deaf.
Medium columnist Jessica Valenti tweeted that she was "dressing up as existential despair this Halloween." However, plenty of others took joy in the idea. Sophie Bee called the idea "accidentally brilliant," and Petra Starke had a very interesting question:
is it wrong if i think the slutty handmaid's tale costume is accidentally brilliant and subversive despite that not being the intention behind it at all

— sophie bee (@pogform) September 20, 2018
I can't decide if this misses the point of The Handmaid's Tale, or encapsulates it completely. https://t.co/nSDeKpJN8T

— Petra Starke 🌟🗝 (@petstarr) September 21, 2018
Yandy pulled the item from their store and issued a statement:
Yandy always has stood, and will continue to stand, at the forefront of encouraging our customers to "Own Your Sexy". We support our customers being comfortable in their skin, regardless of who they are or what they choose to wear. Our corporate ideology is rooted in female empowerment, and gender empowerment overall.

Over the last few hours, it has become obvious that our "Yandy Brave Red Maiden Costume" is being seen as a symbol of women's oppression, rather than an expression of women's empowerment. This is unfortunate, as it was not our intention on any level. Our initial inspiration to create the piece was through witnessing its use in recent months as a powerful protest image.

Given the sincere, heartfelt response, supported by numerous personal stories we've received, we are removing the costume from our site.
If it is any consolation to the company, it would be virtually impossible to top this gaffe — and they are not the only ones who made it. Sleepwear company Lunya released Handmaid's Tale protagonist Offred-themed lingerie, and Lot18 partnered with MGM for wines themed around characters in the show.
'Handmaid's Tale' wines? These will go great with your 'Silence of the Lambs' cheese board: https://t.co/Zf1vuLiAds

— Tony Martin (@mrtonymartin) July 11, 2018
http://feedproxy.google.com/~r/breitbart/~3/M7FiVMWBNE0/