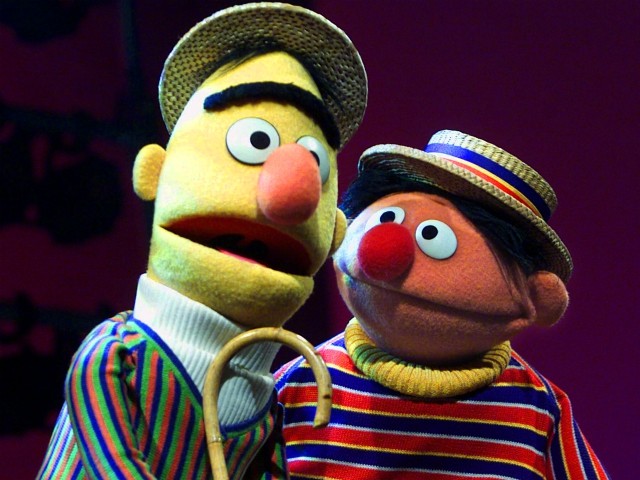 Mark Saltzman, a longtime writer for the hit children's television show Sesame Street, reveals characters Bert and Ernie are gay, ending years of speculation about the status of the duo's relationship.
In a sit-down interview with Queerty, Saltzman revealed Bert and Ernie were based on his own relationship with Arnold Glassman, an award-winning documentary film editor.
"I remember one time a preschooler [in San Francisco] turned to her mum and asked, 'are Bert and Ernie lovers?' and that, coming from a preschooler, was fun," the writer, who joined Sesame Street in 1984, told the same-sex lifestyle magazine.
"That got passed around, and everyone had their chuckle and went back to it," he added."And I always felt that without a huge agenda, when I was writing Bert and Ernie, they were. I didn't have any other way to contextualise them."
Saltzman claimed people close to him knew that the characters' relationship was inspired by his relationship with Glassman and said he personally identified more with Ernie than Bert.
"I look more Bert-ish. And Arnie as a film editor — if you thought of Bert with a job in the world, wouldn't that be perfect? Bert with his paperclips and organisation?" he said. "And I was the jokester. So, it was the Bert and Ernie relationship, and I was already with Arnie when I came to Sesame Street."
"So I don't think I'd know how else to write them, but as a loving couple. I wrote sketches… Arnie's OCD would create friction with how chaotic I was. And that's the Bert and Ernie dynamic," he added.
The official Sesame Street Twitter account tweeted a statement Tuesday, saying while Bert and Ernie "are identified as male characters and possess many human traits and characteristics (as most Sesame Street Muppets do), they remain puppets, and do not have a sexual orientation."
Please see our statement below regarding Bert and Ernie. pic.twitter.com/6r2j0XrKYu

— Sesame Workshop (@SesameWorkshop) September 18, 2018
According to Pink News, the Sesame Street pair is widely viewed within the LGBT movement as "gay icons."
In response to the petition, Sesame Street claimed the pair were "created to teach preschoolers that people can be good friends with those who are very different from themselves"
"Even though they are identified as male characters and possess many human traits and characteristics, they remain puppets and do not have a sexual orientation," the statement continued.
http://feedproxy.google.com/~r/breitbart/~3/Q6KDWVAmmGQ/