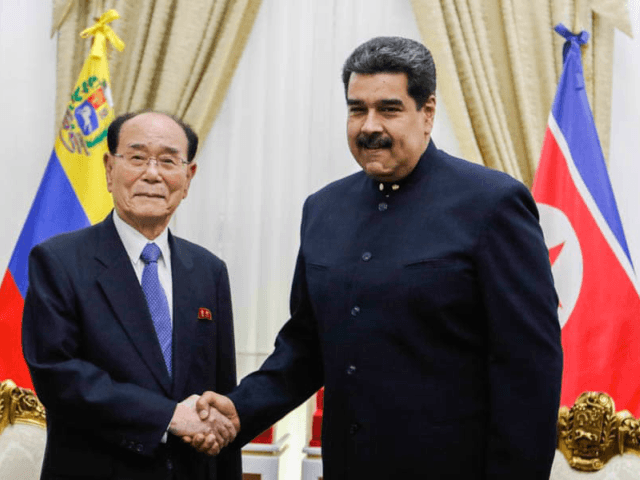 The socialist dictatorship in Venezuela welcomed a visit from Kim Yong Nam, the president of North Korea's puppet legislature, on Monday for meetings with Foreign Minister Jorge Arreaza and dictator Nicolás Maduro.
Kim reportedly also met with Diosdado Cabello, Maduro's military strongman and prominent television host on Venezuelan government media. U.S. government officials have repeatedly accused Cabello of being one of Latin America's wealthiest drug lords, allegedly running the cocaine trafficking outlet Cartel de los Soles.
Venezuela and North Korea, both leftist authoritarian states, have enjoyed friendly relations for years, deepening under Maduro's rule. Kim's visit is reportedly intended to expand political and economic ties between the two countries, which are both under American government sanctions for human rights abuses.
According to Venezuelan state media, Kim arrived on Monday and met with Arreaza to discuss bilateral ties. On Tuesday, he met with Maduro in Caracas' Miraflores palace. During his visits, Kim signed "a memorandum of understanding for political affairs over issues of interest between the two nations."
Neither North Korean media or Venezuelan media offered any details regarding the contents of the memorandum of understanding. North Korean media merely acknowledged Kim's presence in Venezuela
On Twitter, Maduro announced that he held "an important work meeting with the most excellent Kim Yong Nam, President of the Supreme Popular Assembly of the People's Democratic Republic of Korea [North Korea], in which we agreed to strengthen diplomatic and political relations between the two states."
Sostuve un importante encuentro de trabajo con el excelentísimo Kim Yong Nam, Presidente del Presídium de la Asamblea Popular Suprema de la República Popular Democrática de Corea, en el que acordamos fortalecer las relaciones diplomáticas y políticas entre ambos Estados. pic.twitter.com/6fDelnUode

— Nicolás Maduro (@NicolasMaduro) November 28, 2018
In response, Kim reportedly urged stronger "diplomatic, economic and commercial relations." The North Korean news site NK News reports that among the agreements signed was one to allow for travel between diplomats of the two states without visas. The text of the agreement did not mention abolishing visa requirements for civilians, however. Both nations are currently suffering through significant food crises and experiencing growing numbers of citizens attempting to flee. Many North Koreans who attempt to flee are killed on their way out, or killed or sentenced to life in a labor camp if caught in China, which does not offer political asylum to North Koreans. Venezuelans do enjoy offers of political asylum from neighboring countries like Colombia and Brazil, but the number of refugees fleeing the country has now reached record levels and threatens to destabilize the social nets of Venezuela's neighbors.
NK News adds that the meeting between Kim and Cabello centered around fighting the influence of the United States. Venezuela's foreign ministry posted a photo of the two, who technically hold the same title since Cabello is the head of the illegal "National Constituent Assembly" Maduro created to replace the opposition-run constitutional legislature.
The Venezuelan government reports that Cabello told Kim, "our ideological closeness unites us and gives us strength despite our distance." Cabello reportedly "stressed the importance of the struggle and resistance of the people of [North Korea] to the lack of scruples and the permanent attack of American imperialism."
Kim, in turn, reportedly "emphasized an interest in working together to promote the non-aligned nation group as an international stage to struggle for socialism."
North Korea has made efforts in the past two years to strengthen ties with Venezuela, particularly in the Trump era, where the U.S. government has tightened sanctions restrictions on both. North Korea's ambassador to Venezuela Ri Sung Gil organized an event last December to offer Venezuela financial advice amid its socialist economic crisis, warning Venezuela's bank officials that "the government of the United States has expansionist interests in order to acquire the riches of strategic nations like Venezuela and North Korea, which have chosen a socialist economic and social model."
More recently, in March, the communist Korean Workers' Party published a message expressing "firm support and solidarity to the struggle of the United Socialist Party of Venezuela for defending the sovereignty of the country and the social and political stability under the banner of the Bolivarian revolution."
Kim, believed to be about 90 years old, runs the North Korean legislature, which meets irregularly and never strays from the demands of dictator Kim Jong-un. He often serves as an envoy to friendly nations on Kim Jong-un's behalf despite his advanced age
Kim is expected to also make visits to Cuba and Mexico as part of his current tour of Latin America. The former visit is of particular importance to North Korea, as Cuba is one of its oldest and most reliable global allies. Pyongyang recently welcomed Miguel Díaz-Canel, Kim Yong Nam's analog in Havana, with a "warm embrace" including a forced government parade and several "cultural exchange" theater shows. Prior to that, North Korea sent vice chairman of the Central Committee of the North's Workers' Party Choe Ryong-hae to Havana in August, as tensions grew between Pyongyang and Washington. As the second most powerful member of the communist Workers' Party, experts consider Choe second only to Kim Jong-un in authority in the country.
Follow Frances Martel on Facebook and Twitter.
http://feedproxy.google.com/~r/breitbart/~3/PMq9FnqAsPg/