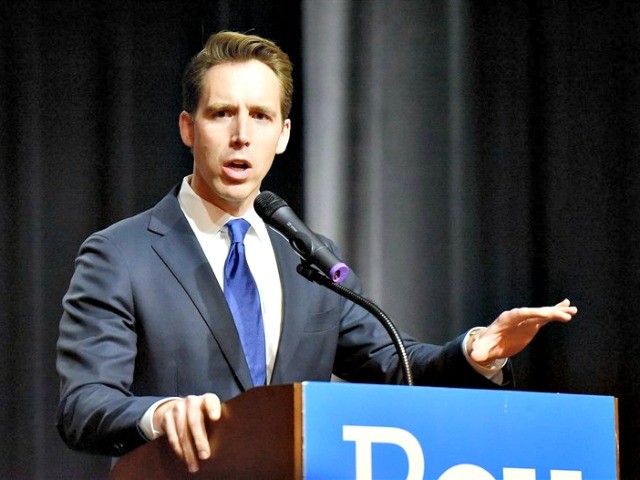 Senator-elect Josh Hawley, who recently defeated two-term Democrat incumbent Sen. Claire McCaskill in Missouri, has ramped up the pressure on Twitter over political bias.
In a series of tweets, Hawley questioned the truthfulness of Twitter CEO Jack Dorsey's testimony to Congress earlier this year, in which the Twitter chief insisted that the platform did not enforce its policies in a politically biased way. The new Senator from Missouri also called on Congress to launch further investigations into political bias at Twitter.
Breitbart News has previously documented how Twitter's recent enforcement system is biased towards the left by default.
Twitter recently banned a Marine vet & conservative pundit, Jesse Kelly, without explanation. This follows Twitter's ban of Canadian feminist Megan Murphy for her speech. @jack told Congress Twitter doesn't target political speech. Is that true?

— Josh Hawley (@HawleyMO) November 27, 2018
Hawley's comments were sparked by the platform's recent suspensions of political accounts, including the Canadian feminist Megan Murphy, who critiqued transgender ideology, and Marine Corps combat veteran and former Republican congressional candidate Jesse Kelly.
Kelly's account was recently un-suspended following backlash from the conservative media. A Twitter spokesperson claimed the platform's ban of Kelly was temporary, despite initially telling him it would be a permanent one. Twitter has also failed to notify Kelly or the press of any rules that his account broke, or any rule-violating tweet.
Hawley went on to call for an investigation into Twitter's political bias. Hawley also raised a point often made by critics of Silicon Valley's political bias — that social media companies' liability from legal responsibility for their users' content is contingent on them behaving like neutral platforms, not publishers that have editorial oversight over content.
The new Congress needs to investigate and find out. Twitter is exempt from liability as a "publisher" because it is allegedly "a forum for a true diversity of political discourse."  That does not appear to be accurate.

— Josh Hawley (@HawleyMO) November 27, 2018
Although Hawley has yet to take his seat in the upper chamber, he already has a reputation for holding big tech to account. As Missouri's attorney general, he launched an antitrust investigation against Google. Along with Senator-elect Marsha Blackburn and Sen. Ted Cruz, he is likely to be one of the more vocal critics of Silicon Valley in the new Congress.
The House Energy and Commerce Committee, before which Dorsey testified about political bias, is also reviewing the Twitter CEO's testimony. An aide to the Committee told Breitbart News that Dorsey has not yet provided answers to members' written questions, despite an October 15th deadline.
Allum Bokhari is the senior technology correspondent at Breitbart News. You can follow him on Twitter, Gab.ai and add him on Facebook. Email tips and suggestions to allumbokhari@protonmail.com.
http://feedproxy.google.com/~r/breitbart/~3/wPmE9h-6N9o/