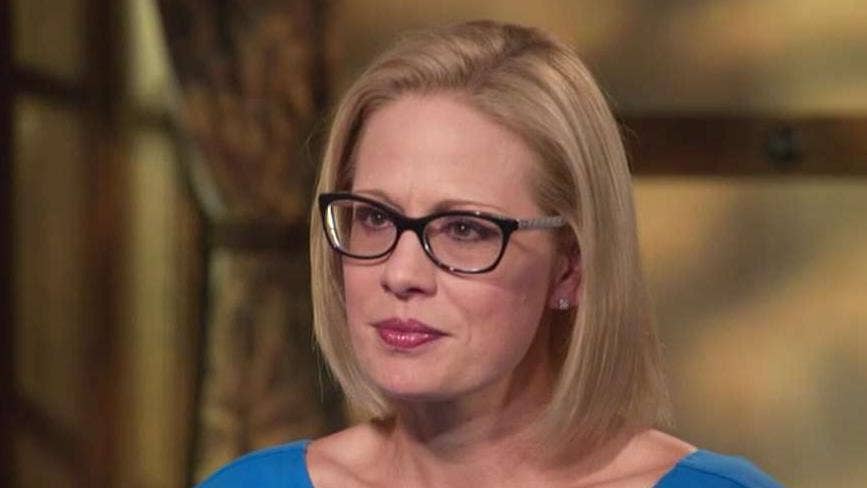 A Senate Democratic hopeful in Arizona may have embellished her homeless upbringing, according to a new report that dug into a key part of her personal narrative. 
Kyrsten Sinema, a congresswoman who's running against Republican Martha McSally in one of the highest-profile midterm races, came under fire after her repeated claims that she was homeless and lived in an abandoned gas station in Florida with no running water or electricity were called into question.
The New York Times obtained court records detailing her parents' payments for an electric, phone and gas bill while they were living in the abandoned gas station – contradicting some aspects of her story. 
The records were part of her parents' divorce case, in which Sinema's mother and her stepfather revealed their monthly payments for utilities while living in the service station, which was owned by the stepfather's parents.
"We are unable to provide adequately for the children," the stepfather wrote to the court, adding that his "bills will exceed $2,000 and I will only bring in $1,500."
"We are unable to provide adequately for the children … bills will exceed $2,000 and I will only bring in $1,500.'

– Andy Howard, Kyrsten Sinema's stepfather
Sinema's claim of living in an abandoned gas station without running water or electricity has been a common theme during her campaigns for public office. In 2012, when she ran for Congress, she repeated the story to Fox 10.
"You know when I was young my stepfather was out of work for several years and we lived in an abandoned gas station with no running water and no electricity," Sinema said. "Sometimes we were hungry and we relied on the kindness of others to help us get through."
The new accusations put Sinema in an awkward position. In her 2009 book on political organizing, she wrote "sometimes I'm too honest" and she's "a big fan of honesty" while noting "it's also wrong to tell half-truths and be sneaky about the truth — no doubt about it," the Times reported.
The U.S. Senate hopeful couldn't explain to the newspaper why her parents paid utility bills despite them not having electricity as she claimed. "Oh gosh, I don't have an answer for that," she said. "That's not something a little kid would hear about from her parents."
She also declined to directly answer whether she exaggerated details about her upbringing. "I've shared what I remember from my childhood. I know what I lived through," she told the newspaper.
The latest revelation follows a string of previous questions about her childhood. The Washington Post questioned her in 2013 about her claims of having a toilet yet no running water. A 2016 Arizona Republic story also noted that the previous owner of the gas station said the building had a spigot and wood-burning stove.
In a statement to the Times, Sinema's mother and stepfather released a statement saying they lacked power and water when living in the abandoned gas station. They didn't address questions why they still paid utility bills.
According to Fox News' 2018 Midterm Power Rankings, the race between Sinema and McSally is a toss-up. Polls largely show Sinema leading the race within the margins of error.
http://feeds.foxnews.com/~r/foxnews/politics/~3/i5-Bv-PcceU/senate-dem-hopeful-kyrsten-sinema-challenged-over-details-homeless-upbringing.html