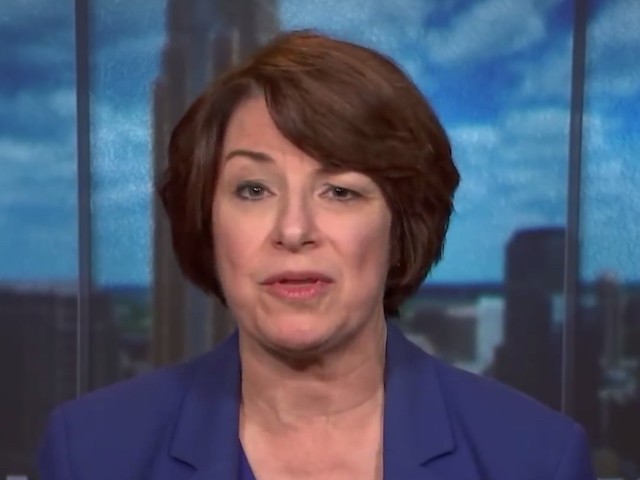 Monday on MSNBC's "The Rachel Maddow Show," 2020 Democratic presidential primary candidate Sen. Amy Klobuchar (D-MN) said Republican lawmakers have issues with President Donald Trump "behind closed doors."
Partial transcript as follows:
MADDOW: In terms of the president and his foreign policy agenda and the way things work in this administration, usually with the president, you talk about what the president wants to do because that is going to be what we do. With this president, there is an expression of what he wants to do and then what we actually do as a government is sometimes different. So for example, the president announced there would be tough sanctions, new sanctions on Russia because of the nerve agent poisoning in the UK. Apparently, his administration never followed through with enacting sanctions. Similarly Congress passed a law saying the Khashoggi murder has to be addressed by the administration. The administration has to assess if there was Saudi government responsibility for that. They appeared to have blown through it and decided they are not going to do it. Does that sort of behavior by this president make Republicans see him as a different kind of president, not just a Republican but perhaps somebody they even as Republican members of Congress may be ought to have issues with.

KLOBUCHAR: Yes, of course they say that behind closed doors as you pointed out. I talk to a lot of Republicans in terms of working on legislation together and find common ground where I can. But that's what they say behind closed doors and sometimes they stand up. You look at what Senator Flake did before he left and some of what Senator McCain did before we sadly lost him. There was people standing up. And I want to see that again. You see murmurs of it from Senator Romney and from time to time you see it from Senator Graham but we need more people to stand up because this is about our democracy. Russia tried to undermine our election and Langford and I can't pass our bill for backup paper ballots that I'm leading that Senator Harris and Graham are also part of.
Follow Pam Key on Twitter @pamkeyNEN
http://feedproxy.google.com/~r/breitbart/~3/gtAd6Juf0Nk/