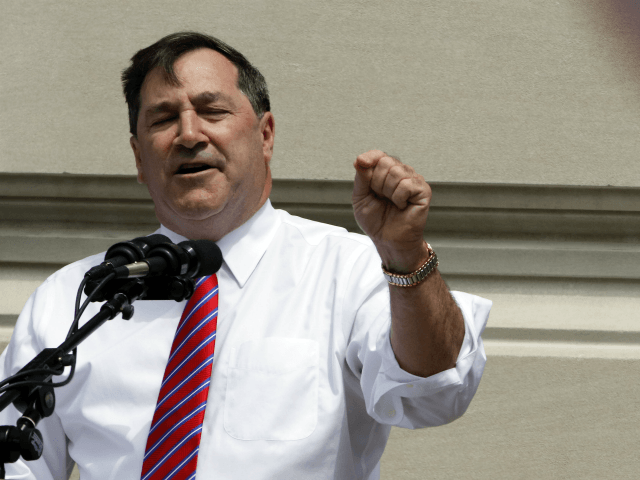 Sen. Joe Donnelly of Indiana told voters during a debate Monday night that he is a "pro-life senator" who ensured federal taxpayer funds were never used for abortion services.
In August, however, the Democrat voted against Sen. Rand Paul's amendment to a Senate appropriations package that would have defunded Planned Parenthood.
All Democrats, including Manchin, Donnelly and other 2018ers, voted against defunding Planned Parenthood. So did Collins and Murkowski; rest of GOP supported stripping funding https://t.co/v6bGeMGpaB

— Burgess Everett (@burgessev) August 23, 2018
The Hyde Amendment supposedly ensures federal taxpayer funds are not used directly for abortions, but national pro-life leaders say voting to fund Planned Parenthood means the nation's largest provider of abortions can free up other monies for abortionist salaries and other abortion-related expenses.
The Susan B. Anthony List (SBA List) says Donnelly "supports the Big Abortion Industry, not Hoosier values," and adds:
Joe Donnelly cast a deciding vote for Obamacare, which uses your tax dollars to pay for health care plans that cover abortion on-demand.
Joe Donnelly voted for taxpayer funding of Planned Parenthood, which performs over 320,000 abortions every year.
Joe Donnelly voted to force states to keep funding Planned Parenthood with our tax dollars even after Congressional investigations revealed that they marketed, sold, and profited from the sale of aborted baby parts.
Donnelly is in a highly competitive race to retain his seat in the U.S. Senate. His GOP opponent, Mike Braun, asserts he will support legislation that states life begins at conception.
"Vulnerable Democratic Senators have betrayed their constituents yet again by voting to fund abortion giant Planned Parenthood, and will be held accountable at the ballot box," said Marjorie Dannenfelser, president of SBA List.
She continued:
Democrat Senators in states won by President Trump cannot get away with presenting themselves as moderates any longer, and self-proclaimed "pro-life" senators like Donnelly and Manchin should be especially ashamed of caving to the abortion lobby and extremists in their party. They have betrayed their constituents and will be held accountable at the ballot box.
Polling commissioned by SBA List shows that a majority of voters in 2018 Senate battleground states oppose giving tax dollars to Planned Parenthood:
56% of voters in select Senate battleground states oppose taxpayer funding for Planned Parenthood (47% strongly oppose)
60% would be less likely to vote for their U.S. Senator if he or she voted to give money to Planned Parenthood instead of community health centers that provide comprehensive women's healthcare (44% "much less likely")
"In more than nine times out of ten, Planned Parenthood resolves pregnancy with abortion," Dannenfelser said. "They are clearly an abortion-centered, profit-driven business – yet taxpayers are forced to fork over nearly $554 million each year to their coffers."
http://feedproxy.google.com/~r/breitbart/~3/TchP3MaOihI/