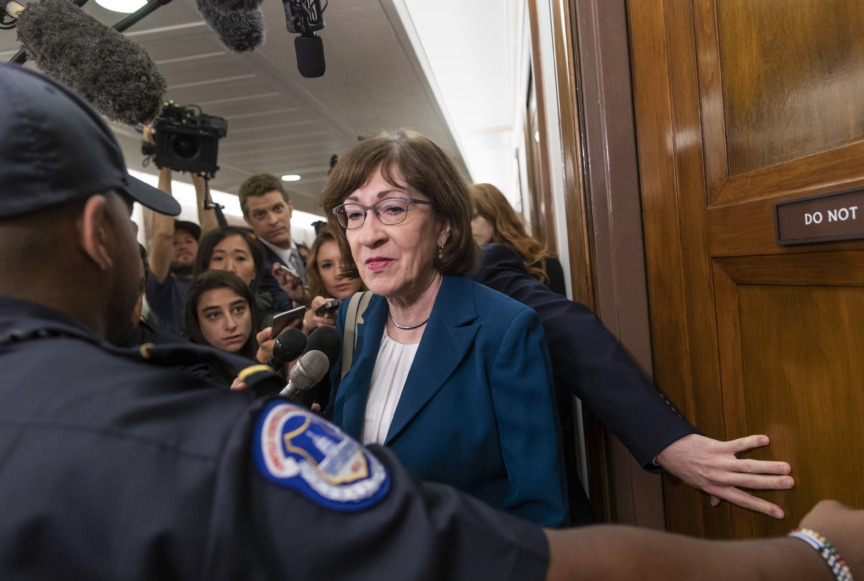 Sen. Susan Collins (R-ME) faced a torrent of death threats and abuse on Twitter following her declaration that she would vote to confirm Judge Brett Kavanaugh to the Supreme Court, and her remarks in defense of the presumption of innocence. So far, Twitter has taken no action, allowing the threats against a sitting Senator to remain on the platform.
Multiple Twitter users said they wished to "punch" Sen. Collins.
I want to punch @SenatorCollins in the face. #SenateIntelHearings #ComeyTestimony #ComeyHearing #ComeyDay #Comey

— Liberal O'Leprechaun (@millerjr99) June 8, 2017
Am I the only one who wants to punch @SenatorCollins in the face right now? She sounds SO condescending!!! #voteherout

— KMO (@kitkatesq) October 5, 2018
I am also. I want to punch Collins

— Terri Hayes (@southNC) October 6, 2018
At least one tweeter called for her death.
I hope someone kills you.

— Lawrence Farmer (@BigMikeFarmer) October 6, 2018
Another told the Senator to kill herself.
@SenatorCollins your are a traitor and a p.o.s. You have sold out every women in the country. If only you were capable of shame maybe you would kill your horrible self. You don't deserve to call yourself a representative of anyone. Shame on you

— Austin Caylor (@Austioferocious) October 5, 2018
Others simply bombarded Sen. Collins with abuse.
I won't mourn your death.

— Vincent Adultman (@wool_potatoes) October 5, 2018
If @StephenKing wouldn't mind, it would make me feel a little better if he'd write a novella where @SenatorCollins dies a long slow horrible death.
Maybe there can be beer. Or prep school boys. #VoteHerOut

— Bronwyn Joye (@BronwynJoye) October 6, 2018
.@SenatorCollins hand in ur vagina. U rnot welcomed member of female gender.

— Cydney.d (@dCydney) October 6, 2018
Smelly, smelly GOP cunt

— Shelly (@shmadge) October 6, 2018
@SenatorCollins is a feckless cunt who has determined her legacy as a supporter of sexual predators and voted her party of hate over truth and justice. May she rot in hell

— Harlan (@HarlanDG) October 6, 2018
filthy bought cunt bitch.

— JSE (@JSException) October 6, 2018
Relinquish your vagina. Bitch.

— Donna Rogers (@DonnaRo29566978) October 6, 2018
Twitter has been slow to respond to death threats against Republicans in the past, at times taking weeks to remove the threatening content. The platform's double standards can also be seen in the way it handles complaints of abuse against conservatives and individuals linked to conservatives. When the daughters of Islam critic Pamela Geller were bombarded with abuse earlier this year, Twitter did nothing. In fact, some of the abusive tweets remain on the site, undeleted.
Other notorious examples of Twitter failing to take action against progressives who break the platform's rules include the case of Peter Fonda, who was allowed to remain verified on the platform despite calling for 12-year old Barron Trump to be "locked in a cage with pedophiles." New York Times journalist Sarah Jeong was also granted verified status on the platform, a distinction that gives her tweets greater visibility, despite breaking the platform's hate speech rules by comparing white males to "dogs pissing on fire hydrants." By Twitter's own admission, verification is a tacit mark of endorsement from the platform.
Meanwhile, Twitter takes the slightest excuse to ban high-profile conservatives who are crucial to mobilizing grassroots Trump supporters and Republicans ahead of the midterms. At times, Twitter has banned conservative figures simply for posting facts that some find offensive. The high-profile right-wingers and critics of progressivism banned from the platform include Tommy Robinson, Chuck Johnson, Hunter Avellone, Roger Stone, and Carl Benjamin. Similar permabans of high-influence progressives are virtually unheard of.
Breitbart News has reached out to Twitter for comment.
Allum Bokhari is the senior technology correspondent at Breitbart News. You can follow him on Twitter, Gab.ai and add him on Facebook. Email tips and suggestions to allumbokhari@protonmail.com.
http://feedproxy.google.com/~r/breitbart/~3/uaP65V-TUGM/