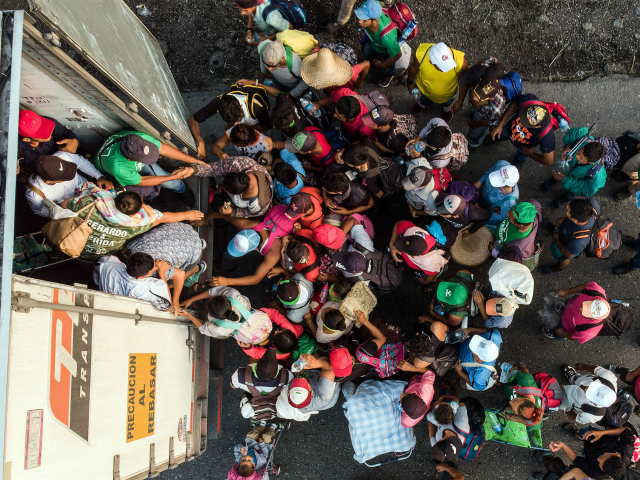 U.S. Sen. Chris Murphy of Connecticut said the caravan of migrants approaching the southern border of the United States consists of "people who are trying to protect their children from potential death and abuse and terror."
During a debate with his Republican opponent, small businessman Matthew Corey, Democrat Murphy dismissed the notion that terrorists could be among the people traveling in the caravan.
"These are people who are trying to protect their children from potential death and abuse and terror," Murphy said. "We should give them the chance to stay in this country if indeed they will be killed if they go back."
News reports, however, have indicated the vast majority of migrants are not seeking asylum.
On October 18, the New York Times reported most of the migrants are seeking jobs in the United States.
"For all of them, heading north is a gamble for a better life," reported the Times. "Most migrants said they were aware that jobs were plentiful in the United States, and many said they believed that having a child accompany them might help them avoid long-term detention."
"Ana Luisa España, a clothes washer and ironer from Chiquimula, Guatemala, joined the caravan as she saw it pass through Guatemala, the Associated Press also reported.
"The goal is to reach the [U.S.] border," she said. "We only want to work and if a job turns up in Mexico, I would do it."
Asked what he would do about the caravan of migrants, Murphy said, "I don't think that these individuals coming to the United States from Honduras should be treated differently than anyone else who is showing up here and applying for asylum."
"If you are fleeing violence, if you are rescuing your children from potential death, then you should be able to apply for asylum for refugee status in the United States," he said, adding that President Donald Trump "is using this as a political wedge, trying to make us scared of our neighbors, or people who have different skin colors than us."
Corey countered, however, that Murphy was engaging in identity politics.
"Look, we want people to come to our country legally," the Republican candidate said. "We need to listen to law enforcement … there's human trafficking, pedophilia, there's drugs coming across our border. We need border security."
During the sole debate between the two candidates – taped and then aired on local CBS affiliate WFSB's Face the State – moderator Dennis House also addressed Murphy's votes against both of Trump's nominees to the Supreme Court, Justices Neil Gorsuch and Brett Kavanaugh.
House asked Murphy if any of the judges on Trump's list would be acceptable to him.
The senator said "folks in Connecticut" want a Supreme Court "that squares with Connecticut values."
He continued:
Unfortunately, President Trump has outsourced the decision about who gets selected to the Supreme Court to two right-wing political groups. He asked them to come up with a list and he's going to choose from it. Almost everyone on those lists that these two political groups gave to President Trump would lead to the criminalization of reproductive health care in this state, would threaten the Affordable Care Act – which has delivered insurance to 200,000 Connecticut residents, and would stand up for corporate rights instead of worker rights and consumer rights.
Corey responded that when Trump was on the ballot in 2016, so, too, were his Supreme Court nominees.
"The process the United States Senate went through was an embarrassment to the country," he said about Kavanaugh's confirmation hearings. "Not only did they drag … Judge Kavanaugh's family through the mud, they also … outed a MeToo movement woman who wanted to stay anonymous."
http://feedproxy.google.com/~r/breitbart/~3/wLtfGgk1ay0/