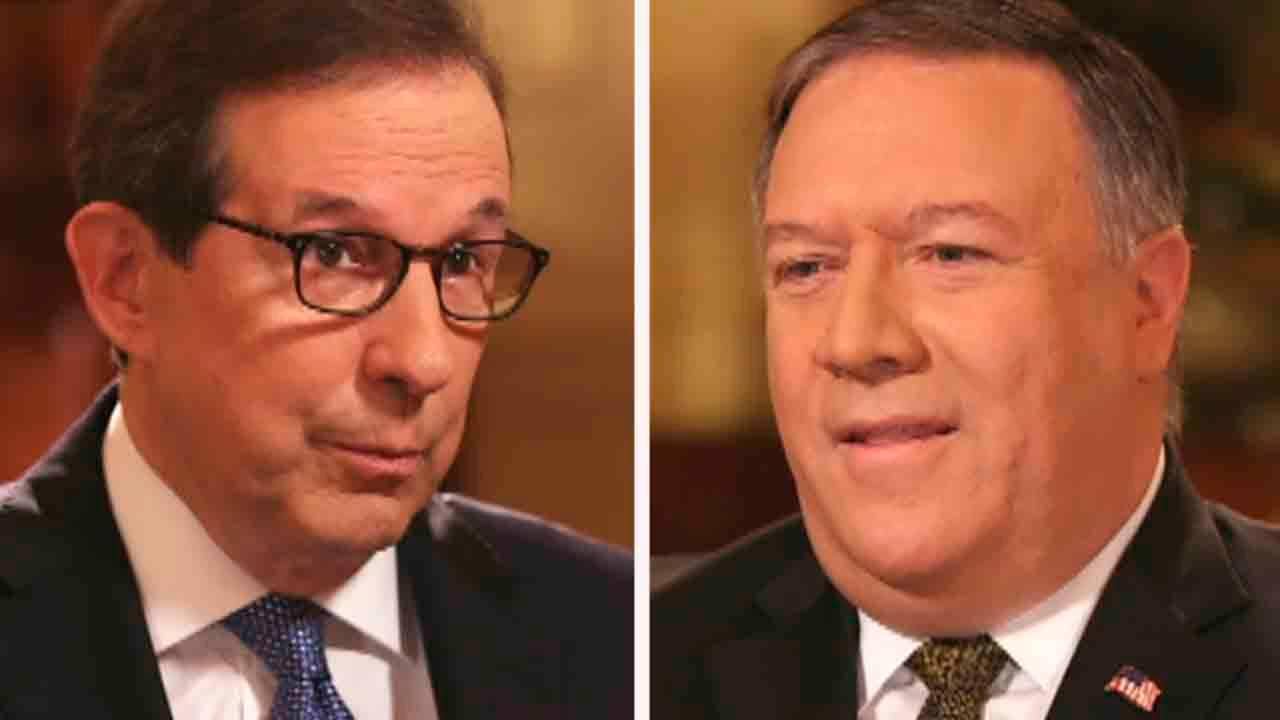 Ahead of President Trump's trip to New York Sunday for key meetings with other world leaders at the U.N. General Assembly, Secretary of State Mike Pompeo told Fox News in no uncertain terms that the U.S. is "going to win" its ongoing trade dispute with China.
Pompeo, who previously served as Trump's CIA director, also warned that "we have real risk to outside agents trying to do harm to America" ahead of the midterm elections, and took a hard line on Iran and North Korea during the wide-ranging interview with host Chris Wallace on "Fox News Sunday."
"The trade war by China against the United States has been going on for years," Pompeo said. "Here's what's different in this administration. To the extent one wants to call this a trade war, we are determined to win it."
China pulled out of scheduled trade talks with the U.S. this week as tensions between the two countries have escalated. On Monday, the White House announced new tariffs on $200 billion in Chinese imports and, in retaliation, China imposed its own taxes on $60 billion in U.S. goods. In response, Trump has vowed further tariffs on an additional $267 billion in imports.
POMPEO REACTS TO REPORT ROSENSTEIN WANTED TO TAKE DOWN TRUMP
"To the extent one wants to call this a trade war, we are determined to win it."

– Secretary of State Mike Pompeo
"We're going to get an outcome which forces China to behave in a way that if you want to be a power — a global power transparency, rule of law — you don't steal intellectual property — the fundamental principles of trade around the world: fairness, reciprocity," Pompeo said. "Those are the things President Trump has told his counterpart there, who he very much likes. Those are the things the American people are demanding and the American workers deserve."
Clamping down on Chinese intellectual property theft has been a rare issue of bipartisan consensus on Capitol Hill. In June, Sen. Chuck Schumer, D-N.Y., praised Trump for hitting back at China, saying in an interview that "China takes total advantage of the United States. They steal our intellectual property using cyber theft."
Discussions on Iran and North Korea were expected to dominate at the U.N. General Assembly. Last month, Trump ended U.S. participation in the Obama-era nuclear deal with Iran, reimposing brusing sanctions that have upended the country's economy and threatened the ruling government's stability. Further sanctions on oil are set to go into effect later this year and do even more damage. 
Trump, who had long called that deal a "horrible" arrangement, would be willing to speak with Iran's leadership at the U.N., Pompeo said — but, he suggested, the conversation would not be entirely cordial.
WATCH: IS IRAN NOW CLOSE TO TOTAL ECONOMIC COLLAPSE?
"The president said he'll talk with anyone if we can have a constructive conversation," Pompeo told Wallace. We want Iran to stop being the large — world's largest state sponsor of terror, but make no mistake about it: there's no indication that they have any intent of doing this.  Just this past couple of weeks, they've come after American interests inside of Iraq, in Basra, and in Baghdad."
The talks would come at a particularly tense time between the U.S. and Iran: Gunmen attacked a military parade in the southwest Iranian city of Ahvaz on Saturday, killing at least 24 people — including eight members of the Revolutionary Guard — and wounding 53, state media said.
Iranian Foreign Minister Mohammad Javad Zarif, Pompeo's counterpart, blamed the episode on regional countries and their "U.S. masters," apparently referencing Saudi Arabia and Israel.
"With respect to the attacks overnight, I saw the comments of Zarif," Pompeo said. "When you have a security incident at home, blaming others is an enormous mistake.  And the loss of innocent life is tragic, and I wish Zarif would focus on keeping his own people secure rather than causing insecurity all around the world."
Pompeo added that "we'll talk a lot" this week in New York about progress being made with North Korea.
"We have now achieved the ceasing of missile testing, the ceasing of nuclear testing," Pompeo said. "We have gotten the remains of 55 Americans.  We're in deep discussions about how to proceed with respect to denuclearization.  President Moon [Jae-In] traveled to Pyongyang for the third time this past week and made progress.  We're continuing to make progress.  These are all the right steps forward.  It's the right path."
During Moon's visit to North Korea, the country's dictator, Kim Jong-Un, reportedly told him that he wanted a second summit with President Trump, which Pompeo has said the U.S. is "working on." Moon also spoke directly to the North Korean public and discussed a peaceful future between the two countries.
Critics have charged, however, that the Trump administration hasn't followed through on its promise to extract meaningful concessions from North Korea — including the elimination of the country's nuclear arsenal — since Trump's historic initial meeting with Kim in Signapore this summer.
"The administration's position hasn't changed one jot from the time we entered this discussion," Pompeo insisted. "I don't want to get into the details of the negotiations that are underway.  But we've talked about particular facilities, particular weapon systems, those conversations are underway.  And we are hopeful that we can deliver this outcome for the world."
Pompeo also responded to a New York Times report that Deputy Attorney General Rod Rosenstein last year suggested secretly recording President Trump to expose chaos in the White House and enlisting Cabinet members to invoke the 25th Amendment to remove him from office. Rosenstein has strenuously denied the report, and a source in the room told Fox News the remark was "sarcastic."
"I'm not going to comment on that in any way, other than to say this: I've been pretty clear since my beginning of service here in this administration, if you can't be on the team, if you're not supporting this mission, then maybe you ought to find something else to do," Pompeo said.
Talking about wearing a wire to take down the president, Pompeo said flatly, was "not remotely" the behavior of a team player.
Fox News' Samuel Chamberlain and Jake Gibson contributed to this report.
http://feeds.foxnews.com/~r/foxnews/politics/~3/0–_CiAjpGU/secretary-state-pompeo-says-us-determined-to-prevail-in-trade-war-with-china-were-going-to-win-it.html