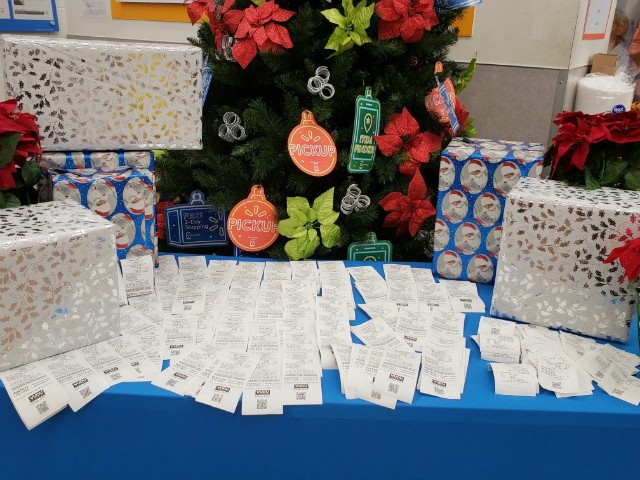 Christmas came a little early for shoppers at one Long Island, New York, Walmart: a "Secret Santa" paid off every outstanding layaway item on file at the store.
The Secret Santa, who requested to remain anonymous, entered the Uniondale Walmart and paid off every single item listed in the store's layaway department.
To prove this was no holiday bluff, the retail giant posted a photo on Facebook showing the receipts that the anonymous Good Samaritan paid for:
Local residents praised the good deed, and some wished they were in on the deal.
"I missed out on the deal," said Long Island resident Tanya Moore. "But that's great that someone you know did a good deed."
"At this time of the year and with everything that's going on in the world," said Kathy Tinucci, another Long Island resident, "I think it's such a fantastic story to hear, really, what a loving gesture."
The retail giant also acknowledged this "random act of kindness," releasing a statement saying Walmart is "proud" to play a role in these acts of generosity.
"When customers quietly pay off others' layaway items, we're reminded how good people can be," Walmart said in a statement. "We're honored to be a small part of these random acts of kindness."
There has been a trend over the past few years of anonymous Secret Santas paying off layaway accounts at big-box department stores nationwide during the holiday season.
One Good Samaritan in New Jersey paid off more than $10,000 of holiday layaway items at a Toys "R" Us in Cherry Hill in 2017.
In 2016, a Secret Santa known as "Santa B" paid off more than $46,000 in layaway items at a Walmart in Pennsylvania.
In 2015, an anonymous donor visited two Ohio Walmarts and paid off 106,000 layaway items. That same year, a Secret Santa paid off $200,000 worth of layaway items at two Florida locations.
http://feedproxy.google.com/~r/breitbart/~3/wx5ob9d2I_0/