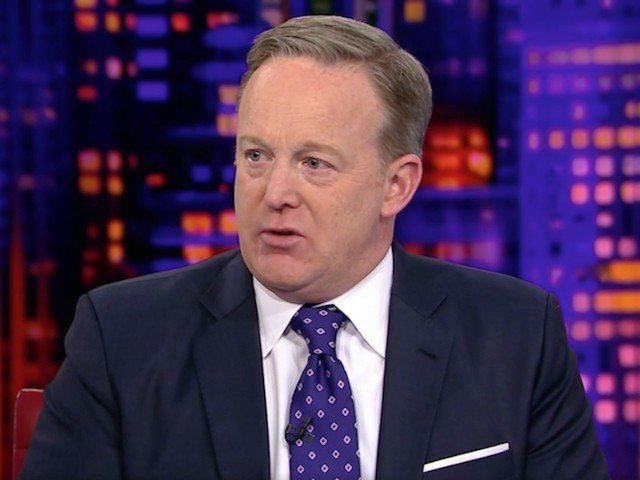 Former White House Press Secretary Sean Spicer joined Breitbart News and SiriusXM Patriot on Tuesday for special coverage of Election Night 2018.
Breitbart News Editor in Chief Alex Marlow, and co-hosts Andrew Wilkow of the Wilkow Majority and David Webb of the David Webb Show were joined by special guest Sean Spicer on Tuesday night for special live coverage of Election Night 2018 on SiriusXM Patriot. (Interview begins at time-code 0:45:00.)
The main question was why citizens were voting for Democrats with the economy doing so well because, while President Donald Trump may not have been on the ballot, his agenda was.
"I've traveled a lot the last three or four weeks," said Spicer, "and one of the things I find fascinating in a lot of states, like Texas, Georgia, and others — they have these policies that have 17 percent economic growth and job creation under Rick Scott,"
"But furthermore," added Spicer, "you've seen this migration of people from states, especially from the northern states — and from urban areas, that are moving to these [conservative] states because they want jobs and then they vote against the very people that implemented the policies that grew the job market in the states."
"Nothing will get done," said Spicer, reacting to House election results. "[In a Democratic-controlled house] It is going to be a literal punt on everything that happens — Politically, [Democrats working with Republicans] will not be allowed. They can't go into 2020 giving the president any wins."
"The one thing that was telling to me, going into this election, there was a bill called 'The Right to Try,'" reminisced Spicer, "They gave people who are terminally ill the right to try any kind of medical procedure that might extend their life."
"Democrats, for political reasons — not to give the president a win — told all their members 'vote against it.' That tells you everything that you need to know about the calculus of how they are operating."
Spicer was, however, optimistic about the overall results.
"Given the choice of the two," said Spicer, referring to the House and Senate, "Legislatively, you may shut down, because you lose the House. But I think that the Senate is what keeps the president alive, and what keeps a lot moving forward."
You can follow Alana Mastrangelo on Twitter @ARmastrangelo and on Instagram.
http://feedproxy.google.com/~r/breitbart/~3/O4dY26v0VHQ/