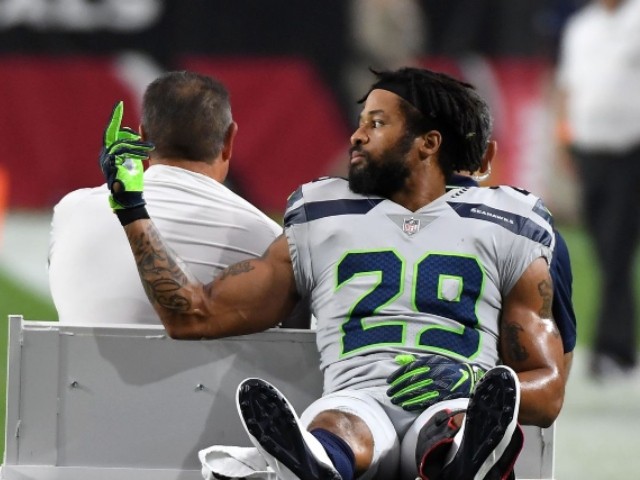 Seattle Seahawks safety Earl Thomas broke his lower left leg against Arizona on Sunday, and as he was being carted off the field, he gave the middle finger to his own sideline.
Why? Well no word from Thomas yet because he's had no comment since the injury, but it's likely related to his contract dispute this summer.
Thomas held out of training camp because he wanted a contract extension or trade, preferably to the Dallas Cowboys, his childhood team.
But Seattle refused to extend the 29-year-old safety, whose had injury issues the last couple of years. Such as when he suffered the same broken lower left leg in 2016.
And now that he broke the same leg again, his chances of getting a big money contract in the future, from Seattle, or another team, is a long-shot.
So that's probably why he flipped the bird at the Seahawks' sideline.
What did Seahawks coach Pete Carroll think of this gesture, perhaps directed at him?
"I don't know anything about that," Carroll said. "It's a big stadium. I don't know where it was aimed at. Earl was extraordinarily poised on the field. For what just occurred to be so clear and so resolved to — he knew what happened. But he was so poised and giving back to the players and all of us. So I don't know what happened after that."
What did his teammates think of Thomas' profane gesture to his own sideline?
"That's why you ask for certain things. Earl wanted an extension and stuff like that, and at the end of the day he didn't get that," said Seahawks defensive end Frank Clark. "It sucks. It sucks to see a guy who, like I said, puts his all into his team and he doesn't get what he deserves."
But if the Seahawks caved to Thomas' demands, would that have been a smart business decision?
Safety is one of the most physically taxing NFL positions, where players, many of them not huge, come flying up from a deep set, and often engage in vicious collisions with running backs and tight ends, like two bighorn rams colliding. Many safeties don't even get to their second contract, because the position is so injury-laden. Three former NFL safeties – David Duerson, Andre Waters and Ray Easterling – reportedly due to concussion-related issues.
So after eight years in the league, and entering the final year of a contract paying him $8.5 million this year, what actuary would tell Seattle to give Thomas a contract extension?
And the Seahawks had first-hand experience on why giving veteran safeties big money extensions is a risky.
On August 1, 2017, they gave 29-year-old safety Kam Chancellor, who was under contract, a three-year, $36 million extension, with $25 million guaranteed. On November 18, 2017. Chancellor suffered a neck injury ending his career.
So as the old saying goes, "once burned, twice shy."
The Seahawks refused to go down the same road a year later, and their reluctance to give Thomas a new deal, even if it seemed cold, perhaps turned out to be a pragmatic decision, considering he got hurt again.
http://feedproxy.google.com/~r/breitbart/~3/5taFZksgWC0/