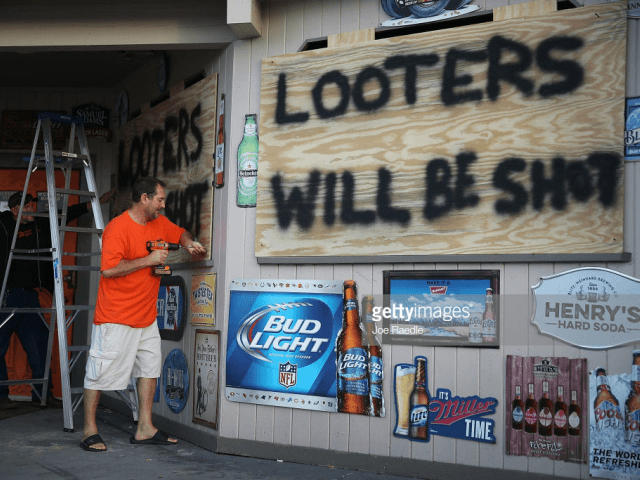 A South Carolina business is warning those who would prey on hurricane victims that "looters will be shot."
CNN published a photos of Knuckleheads Bar & Grill in Mytle Beach. The exterior windows are covered in plywood and the plywood is emblazoned with large spray-painted letters that say, "looters will be shot."
South Carolina Gov. Henry McMaster said that anyone who loots during Hurricane Florence will be shown "no mercy" by law enforcement.

"This is gonna be a very trying period," he said at a Friday news conference. https://t.co/OaFtsqPYEh

— CNN (@CNN) September 14, 2018
Gov. Henry McMaster (R) is also warning would-be looters that they will be shown "no mercy" if caught targeting businesses during Hurricane Florence.
He warned residents that Florence is slow moving and will sit over the area "for about two days." During that time, and the time thereafter, McMaster made clear that law enforcement will show "no mercy" to those caught looting businesses and/or homes.
WWAY reports that a number of looters have already been arrested in Wilmington, North Carolina. Brunswick County Sheriff John Ingram said he handled the incidents in way that will "send a message."
Ingram said, "I want to send a message to the criminal element that's looking for that opportunity, we're gonna do everything within our power, to be very vigilant, working with our community, and if you seek to prey upon the citizens of Brunswick County, we're going to do everything we can to lock you up. I made sure ahead of time, that we had adequate space for anybody that wanted to try that."
AWR Hawkins is an award-winning Second Amendment columnist for Breitbart News, the host of the Breitbart podcast Bullets with AWR Hawkins, and the writer/curator of Down Range with AWR Hawkins, a weekly newsletter focused on all things Second Amendment, also for Breitbart News. He is the political analyst for Armed American Radio. Follow him on Twitter: @AWRHawkins. Reach him directly at awrhawkins@breitbart.com. Sign up to get Down Range at breitbart.com/downrange.