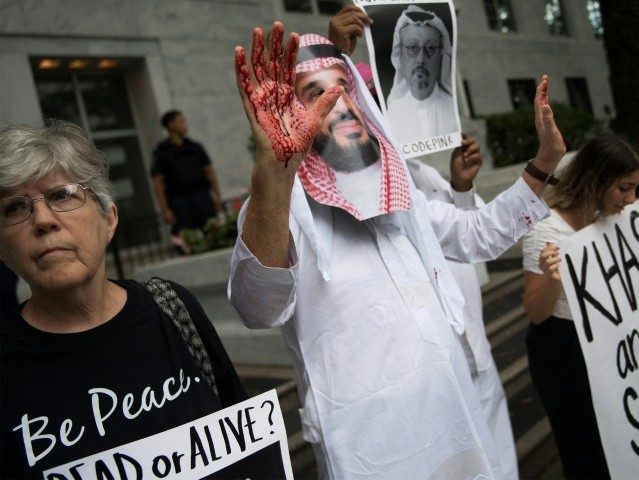 Saudi Arabia reportedly vowed to use its economic influence to retaliate against any punitive actions "with an even stronger measure" in a statement Sunday in response to U.S. President Donald Trump's threat of "severe punishment" over the disappearance of Jamal Khashoggi.
"The kingdom emphasizes that it will respond to any measure against it with an even stronger measure," the Foreign Ministry of the world's largest oil exporter Saudi Arabia said in a statement issued Sunday, according to Bloomberg. "The kingdom's economy has an influential and vital role in the global economy."
Saudi Arabia's statement came in the wake of Jamal Khashoggi's alleged murder in the Saudi Consulate in the Turkish capital of Istanbul.
"It's being looked at very, very strongly. We would be very upset and angry if that was the case," President Trump told CBS's 60 Minutes on Sunday.
"The threats mark a surprising turn in the otherwise warm relationship between Trump and Saudi Crown Prince Mohammed bin Salman," Bloomberg acknowledged. "Since Trump's election in 2016, the two countries signed agreements worth hundreds of billions of dollars in investments and weapons deals."
Khashoggi went missing after he entered the Saudi consulate in Istanbul on October 2. The Saudis deny foul play, but the Washington Post reported, "The Turkish government has told U.S. officials that it has audio and video recordings that prove Washington Post columnist Jamal Khashoggi was killed inside the Saudi Consulate in Istanbul."
Like much of the coverage of Khashoggi, that claim was based on anonymous sources.
The National Interest (TNI) reported:
Turkish authorities have let it be known, although indirectly through leaks to the media, that they have enough evidence to conclude that Khashoggi was tortured, killed and dismembered when he visited the Saudi Consulate on October 2.

Furthermore, it has come to light U.S. intelligence intercepted conversations among Saudi officials regarding plans to abduct Khashoggi from his home in Virginia and forcibly take him to Saudi Arabia. As it turned out, Khashoggi seems to have walked into the lion's den of his own accord.
Saudi Arabia has used its clout over the oil economy as a weapon, particularly when it led an Arab oil embargo during the war between Israel and an alliance of Arab states in the 1970s, Bloomberg pointed out.
So far, Trump has resisted American senators' call for the U.S. to cut tens of billions in arms sales to Saudi Arabia over the disappearance of Khashoggi, saying doing so would only push the Saudis towards Russian and Chinese weapons.
http://feedproxy.google.com/~r/breitbart/~3/SXIkZL2ZDIE/