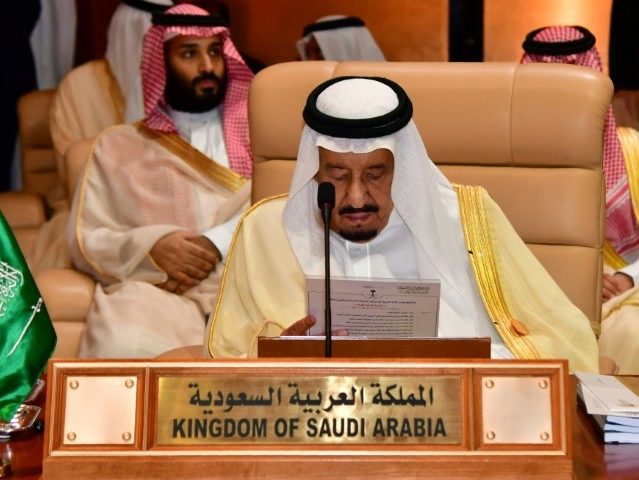 Saudi King Salman bin Abdulaziz had phone conversations with Turkish President Recep Tayyip Erdogan on Sunday night and U.S. President Donald Trump on Monday morning to discuss the disappearance of Jamal Khashoggi, last seen entering the Saudi consulate in Istanbul on October 2.
Accusations of Saudi involvement in Khashoggi's abduction or death have become a massive diplomatic and economic crisis for the Kingdom.
Erdogan told Salman that both sides should form a "joint working group" to investigate Khashoggi's disappearance, according to a Turkish presidential source who spoke to Hurriyet Daily News. Saudi media, on the other hand, claimed King Salman is the one who proposed a joint investigation and Erdogan "welcomed" the suggestion.
The Saudi press agency also reported both leaders stressed that "no one will get to undermine" the strength of the relationship between Saudi Arabia and Turkey – an interesting declaration given that all the undermining thus far has come from Turkish government sources feeding media friendly to Erdogan lurid stories about a Saudi hit squad killing and dismembering Khashoggi inside the consulate.
The UK Guardian reported on Monday that Erdogan's phone call with Salman "ended the impasse" over Turkish investigators entering the Saudi consulate in Istanbul. Reports have accused the Saudis of stonewalling the Turkish visit, in part because the stories of Khashoggi's execution spread by Turkish media allegedly angered them.
President Trump spoke with King Salman on Monday morning and reported the conversation on Twitter, as is his custom:
Just spoke to the King of Saudi Arabia who denies any knowledge of whatever may have happened "to our Saudi Arabian citizen." He said that they are working closely with Turkey to find answer. I am immediately sending our Secretary of State to meet with King!

— Donald J. Trump (@realDonaldTrump) October 15, 2018
"His denial to me could not have been stronger," President Trump told reporters on Monday after his conversation with Salman.
"I don't want to get into his mind but it sounded to me like maybe these could have been rogue killers, who knows? We'll try getting to the bottom of it very soon. His was a flat denial," Trump added.
The State Department confirmed Secretary of State Mike Pompeo will travel to Riyadh on Monday for meetings with Saudi officials.
President Trump said during a Sunday interview with CBS News' 60 Minutes there is "something really terrible and disgusting" about Khashoggi's disappearance.
"We're going to get to the bottom of it, and there will be severe punishment," he promised.
The Saudis issued a statement on Sunday morning warning they will "respond with greater action" if they are targeted with any punitive measures, ominously observing their economy "has an influential and vital role in the global economy."
"The kingdom affirms its total rejection of any threats and attempts to undermine it, whether by threatening to impose economic sanctions, using political pressures or repeating false accusations," the statement declared.
The Saudi embassy to the United States appeared to walk this tough language back a little with a tweet on Sunday:
To help clarify recently issued Saudi statement, the Kingdom of Saudi Arabia extends it appreciation to all, including the US administration, for refraining from jumping to conclusions on the ongoing investigation. https://t.co/AhcsVkn7Cy

— Saudi Embassy (@SaudiEmbassyUSA) October 14, 2018
Fallout from the Khashoggi case continued rocking Saudi Arabia and damaging its plans for a diversified economy over the weekend with news that more top companies – such as JP Morgan & Chase, Ford Motor Company, and giant fund manager BlackRock – are pulling out of the Future Investment InitiativeConference scheduled for October 23-25 in Riyadh. The Saudi stock market fell by 7 percent on Sunday before rallying and closing 3.5 percent down.
http://feedproxy.google.com/~r/breitbart/~3/GT5KQG74eVU/