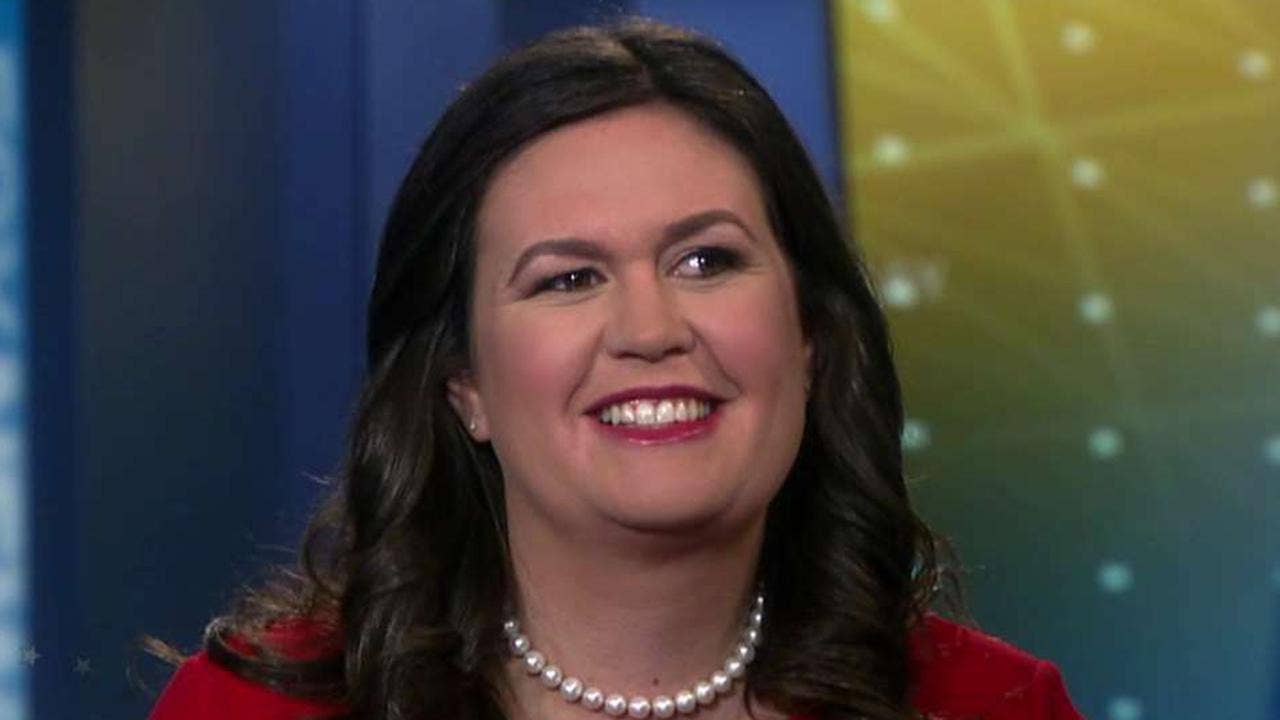 Speaking exclusively to "Fox News Sunday," White House press secretary Sarah Sanders vowed that the ongoing supplemental FBI background check of Supreme Court nominee Brett Kavanaugh won't become a "fishing expedition," and slammed Democrats for their "disgraceful" handling of Christine Ford's sexual assault allegation against him.
Sanders specifically derided Sen. Diane Feinstein, D-Calif., for not revealing Ford's claims to colleagues or federal authorities for more than six weeks after she received a letter from her in July. Senate Republicans have said Judiciary Committee procedures would have allowed Feinstein to preserve Ford's anonymity while raising the allegations confidentially.
Instead, news of Ford's claim came in a leak just days before a crucial Judiciary Committee vote on Kavanagh's nomination. Republicans have strongly suggested Democrats orchestrated that leak. 
"Dianne Feinstein and her staff knew about these accusations, they could have done all of this in a private way to protect Dr. Ford," Sanders said. "Instead, for the people that claim to champion women, Democrats have exploited Dr. Ford, they've exploited this process, and I think it's been totally disgraceful — and I don't think anyone has hit the nail on the head better than Lindsey Graham did during Thursdays hearing," Sanders said.
CHRISTINE FORD'S POLYGRAPH EXAM APPEARS TO REVEAL KEY INCONSISTENCY IN HER CLAIMS
Graham, in a fiery moment during Thursday's hearing, called the proceedings a "sham" and insisted that he would never have touted uncorroborated allegations to attack Obama nominees Elena Kagan and Sonia Sotomayor — whom he supported. Graham has since said that the late former Arizona Sen. John McCain, his longtime friend, would have been so angry that he would have made Graham look like a "choir boy."
Sanders then addressed the ongoing supplemental background check of Kavanaugh, which the White House ordered last week on the insistence of a key swing vote, Sen. Jeff Flake, R-Ariz. President Trump has vowed that the FBI will have wide latitude to interview any witness it wants, and said the probe might be a "blessing in disguise."
"This cannot become a fishing expedition like the Democrats would like to see it be," Sanders told host Chris Wallace. "I think you have to go back to the very beginning of day one, when President Trump nominated Judge Brett Kavanaugh. From that very first moment, before any of these allegations had even been brought up, Democrats said they were not going to support him, they weren't going to vote for him and they were going to do everything within their power to fight him — and we've seen that play out over the last couple of months."
"Democrats have exploited Dr. Ford; they've exploited this process."

– Sarah Sanders
KAVANAUGH GANG RAPE ACCUSER HAS APPARENT PROBLEMS WITH CREDIBILITY, LAWSUIT SHOWS
She continued: "They have been absolutely disgraceful in the way that they handled this process, in the way they have exploited both Brett Kavanaugh and Dr. Ford."
Sen. Cory Booker, D-N.J., called supporters of Kavanaguh "complicit in evil" after his nomination was announced, and Senate Minority Leader Chuck Schumer, D-N.Y., promised to oppose his confirmation with "everything I have."
Also speaking to Fox News on Sunday, Christopher Scalia, the son of late Supreme Court Asssociate Justice Antonin Scalia, echoed Sanders' point.
"It was pretty clear from the beginning — groups already had signs, basically fill-in-the-blank, they were doing Mad Libs protesting basically before President Trump nominated Kavanaugh specifically," Scalia said, referring to throngs of protesters who showed up at the Supreme Court on the night of Kavanaugh's nomination in July with protest signs that allowed them to write in the nominee's name on the fly.
There were also some Mad Libs-style press releases, as well. In a statement after Kavanaugh's nomination, the Women's March said ominously: "Trump's announcement today is a death sentence for thousands of women in the United States."
In an embarrassing blunder, though, the Women's March statement began: "In response to Donald Trump's nomination of XX to the Supreme Court" — indicating that the group didn't expect to have to change its pre-written press release much.
Sanders also touched on an upcoming planned meeting between Trump and Deputy Attorney General Rod Rosenstein. Trump had been scheduled to meet with Rosenstein at the White House last week to discuss the explosive New York Times report claiming Rosenstein suggested wearing a "wire" against Trump and invoking the 25th Amendment to remove him from office last year.
WATCH: HANNITY SAYS FIRING ROSENSTEIN IS A TRAP
A source in the room has told Fox News that Rosenstein's remark, which led to widespread speculation that he would be fired, appeared to be sarcastic.
"I wouldn't be surprised if other topics come up," Sanders said. "I'm not going to get ahead of the President's conversation with the Deputy Attorney General. A date for that hasn't been set. It could be this week. I could see it pushing back another wee,  given all of the other things that are going on with the Supreme Court."
Fox News' Brooke Singman contributed to this report.
http://feeds.foxnews.com/~r/foxnews/politics/~3/Iy7VslsrJvc/sarah-sanders-slams-absolutely-disgraceful-handling-kavanaugh-accusations-vows-wh-wont-micromanage-fbi-probe.html