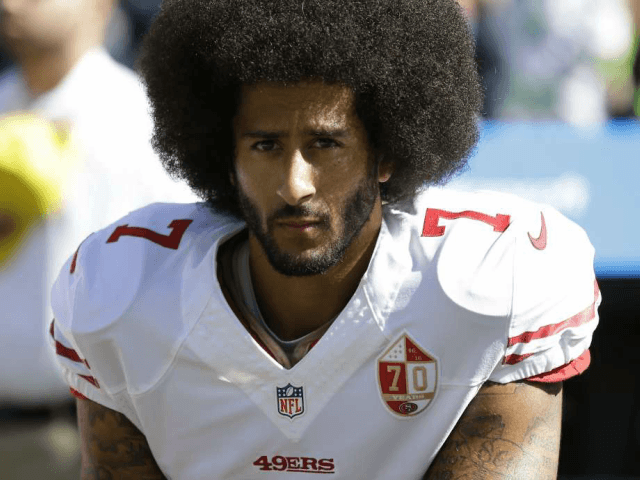 An online columnist for the Santa Rosa Press Democrat feels he has the recipe for success for the San Francisco 49ers, re-sign Colin Kaepernick.
With 49ers quarterback C.J. Beathard performing under expectations, some 49ers fans are looking for some changes at Levi's Stadium. "Since he replaced the injured Jimmy Garoppolo, Beathard has committed ten turnovers in four weeks and ruined the 49ers' chances of winning any games," Grant Cohn wrote.
49ers coach Kyle Shanahan, though, continues to say that " C.J. is the best quarterback we have in our building."
That led Cohn to make this suggestion:
But, if Shanahan were merely to leave his office, take a short walk down a hallway, open a door and exit Levi's Stadium, he would find there's a whole world outside the building. And a free-agent quarterback who's better than Beathard.

Colin Kaepernick. Yes, Colin Kaepernick.
"The 49ers should re-sign him today. Sign him this minute. It's a no-brainer. He would solve every short-term problem they have," Cohn said.
The writer went on to insist that Kaepernick would pass better, run the ball better, protect himself better, indeed, do everything better than Beathard.
"Kaepernick would give the 49ers their best chance to win," Cohn wrote.
"Enough of Beathard. He has no future as an NFL starting quarterback. He is a low-end backup who should ride the bench."
In fact, Cohen insists that re-signing Kaepernick would be a public relations coup. "He would make the 49ers, a sports afterthought, one of the biggest stories in the country, as they always should be," Cohn wrote alluding to Kaepernick's status as the chief anthem protester of the NFL.
By virtue of who he is, Kaepernick will pack the stadium full of fans, and the press box full of journalists from CNN, The New York Times, Fox News, the Washington Post, etc. The biggest outlets from all over the country. The 49ers need Kaepernick's celebrity to make them matter.
In fact, according to Cohn, Kaepernick is a "moral" force that will buoy the 49ers.
And they need his cause. Signing Kaepernick would give the 49ers' a chance to seem moral. To appear more progressive and enlightened than the rest of the NFL. To support the fight against social injustice in America. To look good.
Colin Kaepernick has not played since he walked away from his contract with the 49ers after the 2016 season.
Follow Warner Todd Huston on Twitter @warnerthuston.
http://feedproxy.google.com/~r/breitbart/~3/Cjm_LHfEPCg/