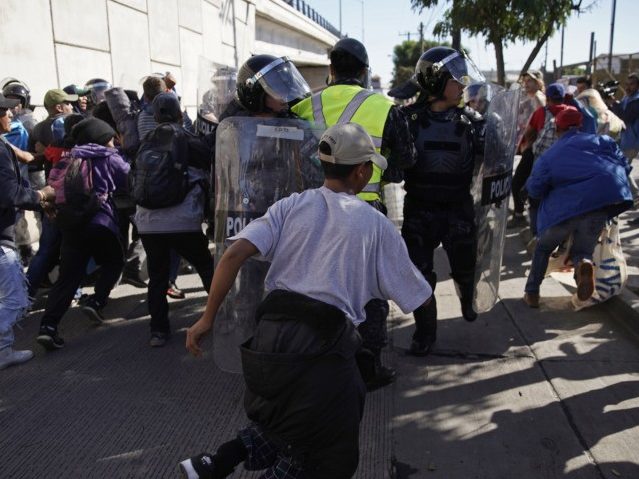 The San Ysidro port of entry, among the largest border crossings between San Diego and Tijuana, was shut down by U.S. Customs and Border Protection agents Sunday after hundreds of caravan migrants appeared to have attempted to breach a U.S.-Mexico border fence.
CBP officials closed traffic roads moving in both directors and pedestrian walkways at the port of entry. Tear gas is said to have been being fired at the migrants from inside the U.S.
The freeway just north of the #SanYsidro Port of Entry is shut down pic.twitter.com/RdvX0msJYm

— Ramon Galindo (@RamonGalindoNBC) November 25, 2018
Pueblo Sin Fronteras, the group organizing the caravan, told Fox News that migrants were preparing to breach the Southern California border crossing on Sunday.
Footage of migrants rushing the port of entry is making the rounds on social media.
Hundreds try to storm the border. Expect significant US response #tijuana pic.twitter.com/0T50XUnXtY

— emma murphy (@emmamurphyitv) November 25, 2018
Warning raw video may have cuss words pic.twitter.com/ORrA8rMXoO

— WendyFry (@WendyFry_) November 25, 2018
#BREAKING: Lanes and pedestrian crossings close at San Ysidro Port of Entry amid border marches. https://t.co/11cUSvrzrp pic.twitter.com/N42EADvaEx

— #NBC7 San Diego (@nbcsandiego) November 25, 2018
Here's moment right before shot bang. You can see some rocks being thrown. pic.twitter.com/p0M9p7Rx4G

— WendyFry (@WendyFry_) November 25, 2018
In one video shared by ITV reporter Emma Murphy, migrants are heard shouting "yes we can" as they rush the entry point.
Some pushing right to fence shouting "yes we can". pic.twitter.com/m03bNX9LIk

— emma murphy (@emmamurphyitv) November 25, 2018
U.S. Border Patrol helicopters flew overhead, while U.S. agents held vigil on foot beyond the wire fence in California.
Military helicopters are flying over the border as @CBPSanDiego agents in riot gear block the roadway pic.twitter.com/OCG0lQfexo

— Ramon Galindo (@RamonGalindoNBC) November 25, 2018
More than 5,000 migrants have been camped in and around a sports complex in Tijuana after making their way through Mexico in recent weeks via caravan. Many hope to apply for asylum in the U.S., but agents at the San Ysidro entry point are processing fewer than 100 asylum petitions a day.
A second line of Mexican police carrying plastic riot shields stood guard outside a Mexican customs and immigration plaza, where the migrants were headed.
That line of police installed tall steel panels behind them outside the Chaparral crossing on the Mexican side of the border, which completely blocked incoming traffic lanes to Mexico.
Tijuana Mayor Juan Manuel Gastlum on Friday declared a humanitarian crisis in his border city of 1.6 million, which he says is struggling to accommodate the crush of migrants.
The Associated Press contributed to this report. 
http://feedproxy.google.com/~r/breitbart/~3/6zWdOX5X3Ko/