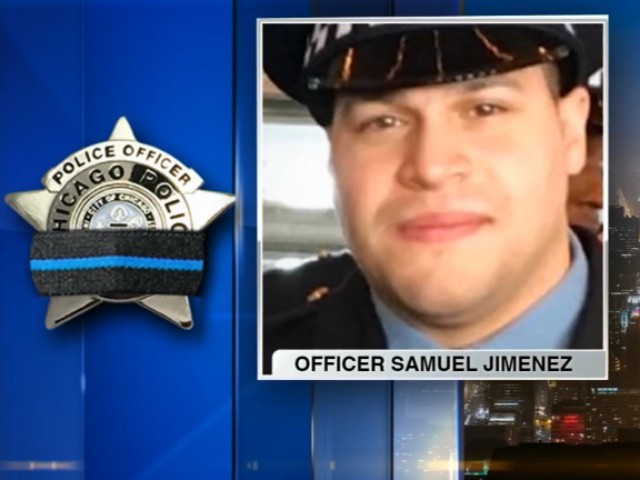 Hours after the shooting that occurred near and in Chicago Mercy Hospital on Monday the Chicago Police Department mourned the death of Officer Samuel Jimenez.
He was a husband and father of three who paid the ultimate price to stop the Chicago Mercy attacker.
The Chicago Tribune reported that Jimenez was a 28-year-old officer who had been with Chicago PD for 18 months. He was shot and fatally wounded during an exchange of gunfire with the Mercy attacker. ABC 7 reported that "Jimenez joined the force in February 2017, and had only been a full-fledged officer for a few months."
The Chicago PD tweeted: "He ran toward danger. He ran toward those shots. He ran into fire. Selflessly." They summed up his actions as, "altruism personified."
Jimenez's body was transported from University of Chicago Hospital to the Cook County morgue and "dozens of officers" stood at attention as the ambulance passed.
CBS Chicago's Suzanne Le Mignot tweeted a photo of an American flag draped from firetruck ladders along the route:
@CFDMedia hoist an American flag between ladders ahead of procession for fallen @Chicago_Police Officer Samuel Jimenez. On @cbschicago pic.twitter.com/6DHgepszhv

— Suzanne Le Mignot (@SuzanneLeMignot) November 20, 2018
Fraternal Order of Police president Kevin Graham said, "Today the Fraternal Order of Police lost a valued brother, a courageous police officer who got up this morning went to work and wanted to protect the city of Chicago. He did just that, but he did so with his life."
Dr. Tamara O'Neal and pharmaceutical assistant Dayna Less were killed by the gunman as well. O'Neal was shot outside the hospital and Less was shot exiting an elevator on the inside.
The gunman is deceased.
AWR Hawkins is an award-winning Second Amendment columnist for Breitbart News, the host of the Breitbart podcast Bullets with AWR Hawkins, and the writer/curator of Down Range with AWR Hawkins, a weekly newsletter focused on all things Second Amendment, also for Breitbart News. He is the political analyst for Armed American Radio. Follow him on Twitter: @AWRHawkins. Reach him directly at awrhawkins@breitbart.com. Sign up to get Down Range at breitbart.com/downrange.
http://feedproxy.google.com/~r/breitbart/~3/JurCa_tarlM/