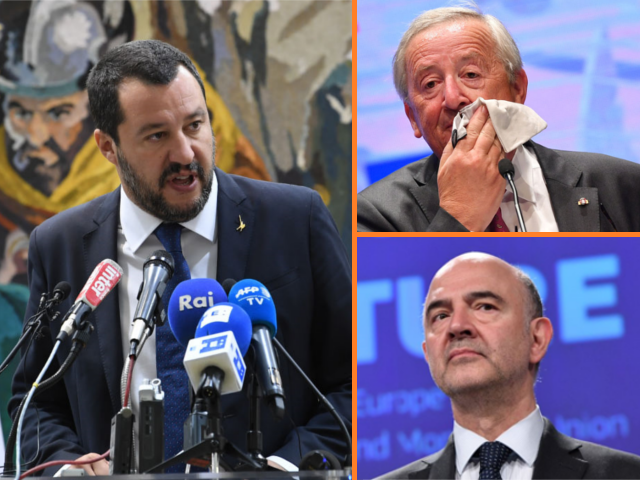 Matteo Salvini has hit back at major EU figures including President Jean-Claude Juncker, stating that globalist policies imposed by unelected bureaucrats were wrecking Europe.
"People like Juncker and [Pierre] Moscovici have ruined Europe and our country," Italy's Deputy Prime Minister and Minister of the Interior said, after the European Commissioners launched a number of verbal attacks on the country's populist coalition government.
Asserting that Brussels "has supported economic measures that have made Italy poor", Salvini said he has no interest in complaints from Juncer or Moscovici, the unelected EU executive's economic affairs chief, about the Italian government's proposed budget.
"They should say what they want, we will continue," the League (Lega) leader said, noting that his party will join with other patriotic forces across Europe in next year's European Parliament elections, in order to change the currently globalist-led bloc's course to one which respects national sovereignty.
"I will be happy to rebuild a new Europe with the popular vote of May [2019], I work only for the good and the future of the Italian people," Salvini added.
Orbán, Salvini Set to Take On Globalism at EU Elections with Anti-Migration Front https://t.co/a3i860I9d7

— Breitbart London (@BreitbartLondon) August 29, 2018
His comments came two days after the Italian leader said the country was "sick of the insults coming from Paris and Brussels", following Moscovici hitting out at Italian and Hungarian voters for choosing governments opposed to Brussels' plans for a neoliberal EU superstate.
"Like the Hungarians, also the Italians have opted for a decidedly eurosceptic and xenophobic government which, on migrant and budget issues, is trying to get out of European obligations," the eurocrat said on Wednesday, in an address to an OECD conference in Paris.
Salvini hit back, dismissing the Paris-born Commissioner — who began his political career in France's Revolutionary Communist League — as "talking through his hat", and declaring: "There's no racism or xenophobia in Italy, but finally a government chosen by citizens, which has blocked migrant smugglers and shut the ports."
Breitbart London reported last week on Moscovici's demand that Brussels bring an end to national sovereignty over finance, with the creation of a joint budget between the Eurozone countries, in order to kill off populist politics in the bloc.
French President Emmanuel Macron and his domestic economy team have reportedly been "ramping up the pressure" for the bloc to move forward with convergence of the 19 Eurozone states before the European Parliament elections next year, fearing the rise of pro-sovereignty movements could endanger the 'European project'.
Salvini's frequent denunciations of Brussels bureaucrats, and his emphasis on Italians being led by "a government chosen by citizens", come after years of rule by europhile technocrats, following the EU's toppling of former prime minister Silvio Berlusconi in 2011.
After Berlusconi's ouster, former EU Commissioner Mario Monti was parachuted in to take his place — days after a coup in Greece along very similar lines was executed.
Italian Election Favourite @matteosalvinimi Blasts Brussels: 'The EU Can Go F*ck Itself' #TellUsHowYouReallyFeel https://t.co/biHzGrXW1X

— Breitbart London (@BreitbartLondon) January 20, 2018
Follow Breitbart London on Facebook:

 Breitbart London
http://feedproxy.google.com/~r/breitbart/~3/XWPek3lvsqo/