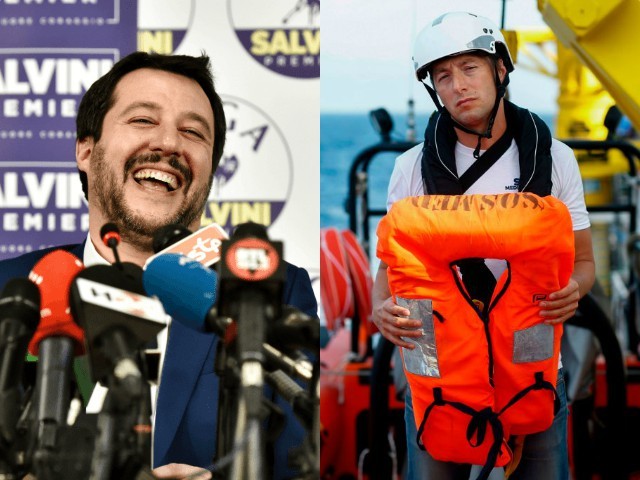 Populist Italian Interior minister Matteo Salvini has expressed joy following reports that there are currently no migrant transport NGOs operating off the Libyan coast.
Throughout 2016 and 2017, several migrant transport NGOs operated in the Search and Rescue (SAR) zone off the coast of Libya to pick up migrants who were then brought back to Italy. Following Interior Minister Salvini's decree to stop port access to the NGO vessels, all migrant transport activity in the area has now come to a halt, Il Giornale reports.
Minister Salvini celebrated the news saying: "Thanks to our actions no NGO ships are in front of Libya, so the smugglers have finished doing their dirty work."
"The results: 110,000 landed last year until October, landings this year stopped at 21,000. And to think that according to the Democratic Party the 'migrations' were 'inevitable processes, we can not do anything,'" Salvini added.
Since mid-2017, the migrant transport NGOs faced increased pressure from the Italian government as prosecutors brought up allegations of cooperation with people smugglers and some even referred to the NGOs as "taxis" for migrants wanting to get to Europe.
NGO 'Rescue' Ship Carrying Over 600 Migrants BLOCKED by Italy's New Govt https://t.co/K1XNNGMro9

— Breitbart London (@BreitbartLondon) June 11, 2018
As a result, the former government investigated several of the NGOs and released a code of conduct which some of the groups rejected and ended their operations.
One of the most active NGOs involved in the migrant transport operations was the France-based SOS Méditerranée which operated the ship Aquarius, only recently having been active in the area.
The Aquarius had to end operations in the SAR zone after Gibraltar removed permission for the vessel to fly their flag in August, forcing the NGO to briefly halt operations until they were able to convince Panama to allow them to fly their flag instead.
Only a month later, the NGO was once again stripped of the flag for the vessel, accusing the Italians of pressuring the Panamanian government to withdraw their permission to fly it.
Follow Chris Tomlinson on Twitter at @TomlinsonCJ or email at ctomlinson(at)breitbart.com
http://feedproxy.google.com/~r/breitbart/~3/ZdMbHaIuD34/