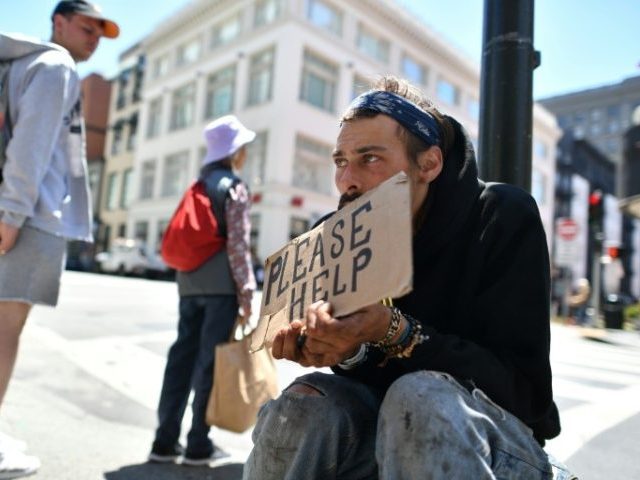 Salesforce CEO Marc Benioff celebrated the victory of the controversial "Proposition C" homelessness tax in San Francisco, which tore Silicon Valley leaders apart leading up to election day.
Proposition C will tax big businesses in order to provide more money to homeless shelters and initiatives in San Francisco.
"Proposition C will increase gross receipts taxes for companies with more than $50 million in annual revenue by an average of 0.5 percent, generating up to $300 million a year to combat the city's homelessness crisis through initiatives like new beds in shelters and increased mental health services," reported CNBC, which added that the tax "had both vocal proponents and vehement detractors in the tech industry."
Benioff, a vocal supporter of Proposition C, donated $7 million with his company Salesforce.com in support of the tax, and celebrated the victory on Twitter this week.
Prop C's victory means the homeless will have a home & the help they truly need! Let the city come together in Love for those who need it most! There is no finish line when it come to helping the homeless. Thank you amazing supporters of Prop C! pic.twitter.com/0JOXCua1m1

— Marc Benioff (@Benioff) November 7, 2018
Thank you San Francisco. pic.twitter.com/GnPnWBFDWJ

— Marc Benioff (@Benioff) November 7, 2018
Twitter CEO Jack Dorsey, Stripe CEO Patrick Collison, Zynga CEO Mark Pincus, and Y Combinator co-founder Paul Graham, however, all opposed Proposition C, claiming that the tax would be ineffective in its goal to combat homelessness.
The "No on Prop C" campaign also received donations from Lyft, Visa, and venture capitalist Michael Moritz.
"If homelessness was just a question of money, this issue would already be solved," declared Collison in a statement. "While cities report inconsistently, San Francisco currently spends around $430 per city resident per year on services and programs for the homeless, compared to $260 in New York and $110 in Los Angeles. Yet the problem in our city is worse, and despite increases in spending, has continued to worsen."
"Homelessness is the product of a complex web of causes, and solutions require careful interventions. Like many others, we do not believe that Prop C — which would bring San Francisco's annual expenditure to $770 per person per year — will effectively solve this problem," he continued. "While well-intentioned, it is San Francisco's largest-ever tax increase, and comes with no systemic changes or effective accountability. Anyone who claims that Prop C is a matter of being 'for the homeless or against them' is selling a facile falsehood."
The Silicon Valley split led to a heated, public battle between Benioff, Dorsey, and Collison last month.
I want to help fix the homeless problem in SF and California. I don't believe this (Prop C) is the best way to do it. I support Mayor @LondonBreed and @Scott_Wiener's commitment to address this the right way. Mayor Breed was elected to fix this. I trust her. https://t.co/EsxapfDvtI

— jack (@jack) October 12, 2018
Hi Jack. Thanks for the feedback. Which homeless programs in our city are you supporting? Can you tell me what Twitter and Square & you are in for & at what financial levels? How much have you given to heading home our $37M initiative to get every homeless child off the streets?

— Marc Benioff (@Benioff) October 12, 2018
CEO @jack created $50B in market cap in Twitter & Square & $6B personally in our city & received a special Mid Market Tax Break. Exactly much have his companies & personally given back to our city, our homeless programs, public hospitals, & public schools? Yes @OurHomeSF.

— Marc Benioff (@Benioff) October 12, 2018
Marc: you're distracting. This is about me supporting Mayor @LondonBreed for *the* reason she was elected. The Mayor doesn't support Prop C, and we should listen to her. I support the Mayor, and I'm committed to helping her execute her plan.

— jack (@jack) October 12, 2018
Am with Jack. Marc is well-intentioned, but I trust Mayor Breed's expertise on homelessness over his.https://t.co/isC6JcwCMr

— Patrick Collison (@patrickc) October 12, 2018
http://feedproxy.google.com/~r/breitbart/~3/JfcldOW5iTQ/