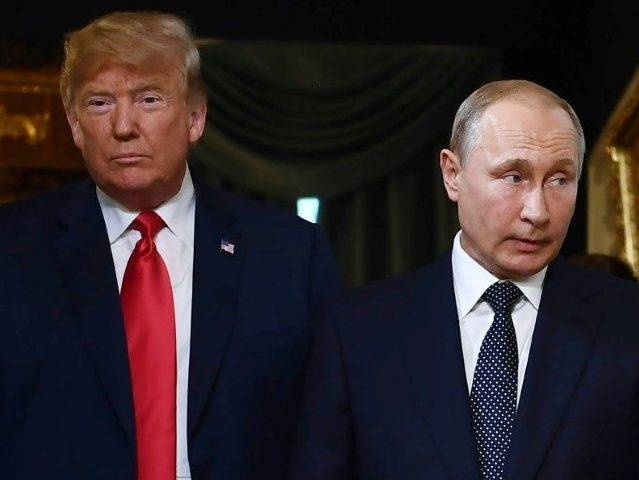 A Russian lawmaker warned this week that the Russian military may target a proposed U.S. military base near Russia's border in Poland, informally dubbed "Fort Trump," if Washington and Warsaw move ahead with the plan, the state-run TASS news agency reported Thursday.
Frants Klintsevich, a Russian member of parliament, declared: "If a facility is really created on Polish territory, it will immediately become a target for a strike. These are the rules of the war," TASS revealed, citing the pro-government Izvestia newspaper.
The establishment of "Fort Trump" would amount to an "irresponsible step" that would only increase tensions in the region, the senator reportedly said, adding that Poland's proposal is "dangerous" and "economically unjustified."
TASS noted:
Warsaw and Washington are holding active consultations on establishing a US military base in Poland, which could be located in Orzysz near Russia's Kaliningrad, Polish diplomatic sources told Izvestia. According to the sources, the would-be US military outpost near Russia's border should protect Poland and also Latvia, Lithuania, and Estonia from external threats. Under the plan, a US armored tank brigade would be deployed to the potential US base in Poland, which is being dubbed Fort Trump. Other sites for the likely base in Poland would be Zagan and Drawsko Pomorskie, which are also being looked into.
The administration of Polish President Andrzej Duda has invited the United States to establish a military base near Russia's border.
President Duda suggested it could be called "Fort Trump."
Last month, the state-run Radio Poland reported that the Polish Defense Minister Mariusz Błaszczak was expected to discuss "Fort Trump" during his visit to the U.S. at the time, adding:
Błaszczak said at the time that he "was told there is support" for a new permanent American army base in Poland. Błaszczak told reporters he was optimistic about talks on setting up what officials and the media have dubbed "Fort Trump" in Poland.

Poland already hosts US troops on a rotating basis as part of NATO, and the Polish section of a US missile defence shield over Europe is being built by the Americans at Redzikowo in the north of the country. Senior Polish parliamentarian Adam Bielan said last month that a decision on a possible new permanent US troop presence in Poland was likely to be made next year.
Amid fears of Russian aggression in the wake of Russian' annexation of the Crimea region in 2014, NATO decided in July 2016 to deploy four rotating multinational battalions to Poland and the Baltic states.
The warnings against "Fort Trump" came amid heightened tensions between Russia and the U.S.-led NATO alliance over the Kremlin's seizure of three Ukrainian military vessels and their crew last month off the coast of Moscow-annexed Crimea.
On November 25, Russia seized two small Ukrainian military ships, a tugboat, and their crews.
The incident took place near Crimea, a former Ukrainian region on the Black Sea annexed by Russia in 2014, a move that triggered sanctions from the West.
Speaking at a NATO conference in Brussels Tuesday, U.S. Secretary of State Mike Pompeo said the alliance "will collectively develop [a] set of responses that demonstrate to Russians this behavior is unacceptable."
During the same event, NATO Secretary General Jens Stoltenberg reportedly said that the U.S.-led alliance had intensified its presence in the Black Sea region in response to what he described as "Russia's aggressive actions."
"We will continue to assess our presence in the region," he added.
http://feedproxy.google.com/~r/breitbart/~3/9dJ0q-_p32k/