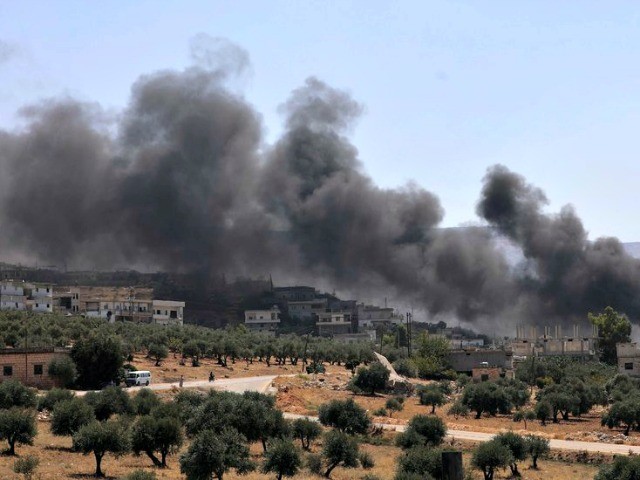 Russian President Vladimir Putin met with his security council on Friday to discuss the impending invasion of Syria's Idlib province and is considering a meeting with Turkish President Recep Tayyip Erdogan, who has been pleading with Russia and Syria to hold off on the offensive. Russian officials nevertheless maintained airstrikes against rebel positions in Idlib will continue.
Speaking from Berlin on Friday, Russian Foreign Minister Sergei Lavrov said Russian air power will continue striking "terrorist weapons-making facilities" in Idlib but will also provide "humanitarian corridors" and "ceasefire zones" through which civilians can flee the province.
Lavrov insinuated the terrorists have chemical weapons and stood by Moscow's implausible contention that no WMD attacks in Syria can be attributed to dictator Bashar Assad because he gave up all his gas weapons under Russian supervision years ago. The Russians claim chemical attacks that seemingly originated with Syrian armed forces were actually committed by terrorists and blamed on the Assad regime to trick the West into attacking it.
Lavrov was in Germany to smooth over relations with European leaders anxious about the humanitarian catastrophe that would ensue from a massive invasion. Lavrov offered reassurances that no major offensive is imminent.
"What is being presented at the moment as the beginning of a Russian-backed offensive by Syrian forces is not a faithful representation of the facts. Syrian forces and we ourselves are simply reacting to the attacks coming from the zone of Idlib," he said.
President Vladimir Putin met with the Russian security council on Friday and said he was concerned with reports of terrorist activity in Idlib. Syrian and Iranian media said the Russian Defense Ministry is worried about militants kidnapping children to use as victims in a staged chemical attack, which the United States would exploit as a pretext to attack Syria.
A Kremlin spokesman said on Friday that Putin will meet on Monday with Turkish President Recep Tayyip Erdogan in the Russian city of Sochi. Erodgan wants the Russians to hold off on attacking Idlib, fearing the assault would send another wave of refugees across the Turkish border. The Russians have urged Turkey to use its influence with armed anti-government factions in Syria to convince them to stand down and break ties with terrorist organizations such as al-Qaeda.
The Wall Street Journal reported on Friday that Turkey has secured at least a delay in the Idlib offensive, in part by pledging to persuade armed groups that are lot allied with ISIS or al-Qaeda to evacuate.
"It seems there is somewhat of a pause. There's a feeling that they are not sure that they are ready to go forward," a U.S. official said of the mood in Damascus and Moscow.
"I think the Russians are not happy with the Turkish position, but they also value the relationship so much I don't think they want to jeopardize it entirely," ventured European Council on Foreign Relations analyst Asli Aydintabas.
The Turkish plan for Idlib seems to involve pulling out enough non-jihadi militants to make the hardliners accept their cause is lost, eliminating the need for a gigantic attack. There is at least a little evidence this approach is working, as militants linked to al-Qaeda have been seen ordering their followers to be less abusive to Idlib civilians.
Fox News on Friday quoted analysts who gave the Trump administration credit for pressuring the Assad regime and its allies out of attacking Idlib.
"The offensive is certainly on hold, and that is in large part a result of the renewed commitment from the United States to establish consequences should Russia and the regime continue with reckless bombing of Idlib," said Kenan Rahmani of The Syria Campaign.
Rahmani noted that Russian airstrikes have become less frequent and intense over the past 24 hours, an assessment shared by the Pentagon.
"Russia and the regime have a long history of testing red lines and seeing what they can get away with – but there is a sense this time that this isn't just rhetoric from the U.S, this is an actual policy, and the policy is that the U.S will absolutely not allow mass killings and mass atrocities," Rahmani said.
Other observers quoted by Fox News credited the U.S. with making it clear that chemical weapons would not be tolerated and American forces are ready to target Assad's WMD inventory.
"The position of the United States and Trump is very powerful, with Europe standing by their side and Turkey, too, standing a strong stance has helped postpone the offensive," said Syrian opposition leader Hisham al-Skeif.
http://feedproxy.google.com/~r/breitbart/~3/VofpIeLqh9U/