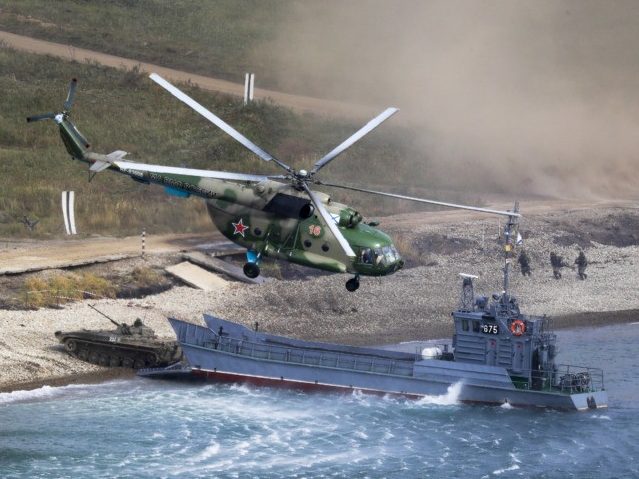 Russian Defense Minister Sergei Shoigu pledged on Tuesday to hold over 4,000 military drills throughout 2019, as well as around 8,500 practical combat training events as the Putin regime seeks to shore up its military preparation.
Shoigu made the remarks during a conference call involving the heads of Russian military districts, commanders of the different branches of the Russian Armed Forces, and representatives of authorities from Russia's semi-autonomous regions, according to Russia's TASS news agency.
"Next year is going to be extremely busy. Over 4,000 various types of drills and nearly 8,500 practical combat training events are scheduled," he said. "The main focus will be placed on applying expertise in the use of troops in today's armed conflicts and training commanders to effectively address non-standard tasks."
During a press conference Tuesday, Shoigu also spoke of how Russia is gearing up for an arms race with the United States.
"Measures were considered to reinforce the armed forces' combat capacity and means amid the mounting arms race related to the U.S. plans to quit the INF Treaty," Shoigu said."The supreme commander-in-chief was informed about the process of building and developing the armed forces, their capacity to ensure the state's military security and counter a technologically advanced enemy."
The INF treaty was negotiated between President Ronald Reagan and former Soviet leader Mikhail Gorbachev in 1987, with both sides agreeing to eliminate all ground-launched ballistic and cruise missiles with ranges of between 300 to 3,500 miles. However, President Donald Trump recently decided to pull the U.S. out of the treaty, citing Moscow's violation of the agreement.
"Russia has violated the agreement. They've been violating it for many years," Trump said in October. "And I don't know why President Obama didn't negotiate or pull out. And we're not going to let them violate a nuclear agreement and go out and do weapons and we're not allowed to. We're the ones that have stayed in the agreement and we've honored the agreement."
Such extensive military preparation is another sign of the increased militarization of Putin's Russia, with the country recently experiencing another military confrontation with Ukrainian navy ships that entered Crimea.
This week, Fox News obtained images of Russian forces deploying additional S-400 surface-to-air missile batteries at an airbase in Crimea. The S-400 battery is one of the world's most powerful anti-aircraft weapon systems, with a range of up to 250 miles and a maximum altitude of nearly 19 miles. They are believed to be capable of all types of aerial threat, from aircraft to cruise and ballistic missiles.
In September, the country also held the Vostok-2018 drills, their largest show of military force since 1981 at the height of the Cold War. The drills involved around 297,000 service personnel, over 1,000 aircraft, 36,000 tanks, and other vehicles, as well as 80 warships. Chinese and Mongolian troops also participated in the exercises.
Follow Ben Kew on Facebook, Twitter at @ben_kew, or email him at bkew@breitbart.com.
http://feedproxy.google.com/~r/breitbart/~3/0JD4vPmawzs/